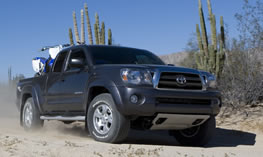 If you want to access some of the more remote areas of Baja, you will definitely need a high clearance vehicle that has 4 wheel drive.
Please do not get the impression that you need a 4 wheel drive vehicle to enjoy a Baja road trip. I just recently completed a 3 week road adventure through Baja in a Honda Odyssey minivan, and I was able to access numerous remote surf spots and cool campsites that had decent graded dirt roads. So 4 wheel drive is not necessary for a Baja adventure. But if you know you are going to be driving to some of the more remote areas that you know have really rough dirt roads, then 4 wheel drive will be necessary for you to safely access these areas. Also, during the winter months, some of the well graded dirt roads can get muddy after rains, so 4 wheel drive is helpful for these situations as well. Also note that 4 wheel drive vehicles can still get stuck in the mud, so be careful if conditions are wet and muddy.
If you are a surfer, you will need a high clearance vehicle to access surf spots such as 'The Wall' and Scorpion Bay - especially during the winter when the roads can get muddy. If you do not have a high clearance vehicle, there are still many surf spots that are easily accessible by standard autos. Some great surf locations that are remote but easily accessed by car are: Santa Rosalillita, Punta Abreojos, San Pedrito, and Shipwrecks. Refer to The Surfer's Guide to Baja book for more details on road conditions.
Some Popular 4X4 Baja Vehicles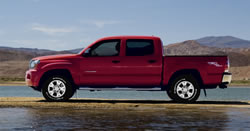 Toyota Tacoma 4X4
Toyota Tacomas used to be considered small trucks, but in recent years Toyota has made them a lot bigger. New and old Toyota Tacomas are one the most popular Baja vehicles for surfers, campers, and folks who like to get off the beaten path. They tend to be reliable, and they have enough space to fit your gear. This is a good choice if you do not wish to drive a massive truck. Many Baja adventurers will add a camper shell and roof racks to their truck for extra storage and security. A long bed Tacoma is preferred by many who enjoy sleeping in the bed of their truck.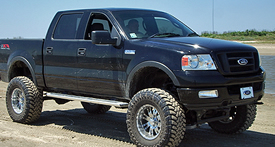 Full Size Trucks - Toyota Tundra, Ford F-150, GMC Sierra, Chevy Suburban
If you need more space than a small truck, a full sized truck or SUV with 4X4 is your next option. Full sized trucks and SU Vs also have more towing and payload capacity. These type of trucks are very popular in Baja as well, and they still are great vehicles for driving around your home town in the US. The newer full sized trucks are very comfortable to ride in (unlike older trucks that could rattle your teeth out). The downside to these larger trucks is decreased fuel economy, higher price tag if purchased new, and some people find them cumbersome for daily commuting.
Specialized Adventure Vehicles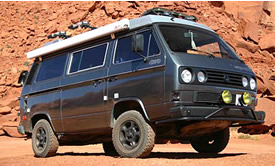 Volkswagen Syncro
The Volkswagen Westfalia Syncro Van was only manufactured from 1985 to 1991, but it is a legendary vehicle among off-road adventurers. Because it is a rare vehicle, and parts and technicians can be hard to find to make repairs - it is not recommended for the common adventurer. But if you are obsessive about your hobbies, and your vehicle means more to you just a hunk of steel that gets you from point a to point - then the VW Syncro could be your ultimate fantasy Baja vehicle. Syncro camper models have have full-time 4 wheel drive, are equipped with a small refrigerator, stove, and sink, and have pop-tops for sleeping in. There are numerous upgrades and modifications that can also be made to your Syncro to make it the vehicle of your dreams.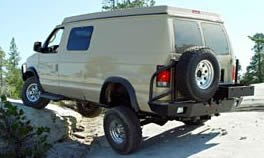 Sportsmobiles
One of the best known manufacturers of customized off-road adventure vehicles is Sportsmobile. Typically built from a Ford E-350 van, the Sportsmobiles can be equipped with heavy duty 4 wheel drive systems and off-road gear, pop-tops, stoves, toilets, refrigerators, and just about anything else you want. They are pricey and don't get great gas mileage, but for many, these are the ultimate Baja vehicles.
As you can see, you can get pretty carried away with designing your fantasy Baja mobile. But remember, you can have a truly adventurous Baja quest in a simple car or minivan as well. If you have never driven to Baja, it is highly recommended that you first drive Baja in your current vehicle (as long as it is in good running condition) before sinking a lot of money into a fancy off-road vehicle. Many of Baja's best spots are accessible with a simple car.
NOTE: Mexican insurance policies only cover vehicles while driving on roads. Off-roading on the beach or off of graded roads may not be covered by your Mexican insurance policy. Refer to the terms and conditions of your Mexican insurance policy for exact details.