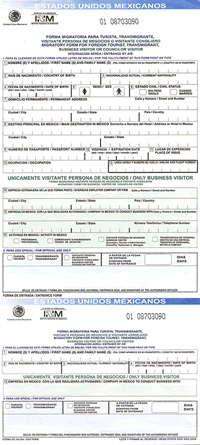 In Baja, you will need to get a tourist card if you plan to drive south of Ensenada.
The Mexico tourist card, or Mexico tourist visa (FMT), is required for each person in your travel group if you will be traveling outside of the border tourist corridor areas.
Here are the Mexico tourist corridors:
Tijuana to Ensenada
Mexicali
Sonoyta to Puerto Penasco
Cuidad Juarez to Paquime
Piedras Negras to Santarosa
Reynosa - China to Presa el Cuchillo
If you will be traveling outside of these areas, you will need to get a tourist card when you cross the border into Mexico.
How to Get Your Tourist Card
For first timers, the whole process can be a bit confusing. Don't panic though, it really is very simple.
1: Pull over into the parking area at the border crossing on the Mexican side of the border. Most border crossings will have parking areas (small parking lot) within a few meters of where you physically crossed the border.
2: Get out of your vehicle and ask anyone you see where the tourist visa office is. The soldiers, police, and other Mexican border workers get asked this question every day, so they will know what you are asking even if they don't speak English. It is technically called the 'immigration office'.
3: All of the people in your party should go into the office to get their own tourist card - they need to sign it. (TIP: if you have a large group, you may have 1 person go into the office to get the tourist card applications for everyone in your group so they can fill them out and sign them before going into the office. The offices are usually small, so it can get crowded quick in there.)
4: Make sure to bring each person's passport with you. The immigration officer will need to see your passport.
5: Each tourist card will cost about $20 US (225 pesos).
6: In the office, the Mexican immigration official will ask you how many days you will be in Mexico. TIP: tell them you will be in Mexico 180 (the maximum amount for a tourist visa). It does not cost extra to put the maximum amount of days, and then you can re-use your tourist card for another trip to Mexico within this 180 day window. If you tell them 10 days, then you will need to exit Mexico within 10 days or pay for another tourist card. They do not care if you ask for 180 days, so might as well take them and keep your options open!
7: You will then fill out the tourist card form/application and sign it on the back. The questions are: Name, address, birth date, destination in Mexico, & passport number. Once filled out, the immigration officer will send you to the bank booth next door to the office. You will pay for the tourist card at the bank booth.
7: Pay the bank the 225 pesos (they take US dollars as well), and the bank will then give you a receipt for payment.
8: Walk back to the immigration office and hand the immigration officer the bank receipt.
9: The immigration officer will then stamp everything and shuffle papers around. He will then hand you your copy of your tourist card stapled to your bank receipt.
10: DO NOT LOSE THIS!!!! If you are stopped in Mexico south of the tourist corridors without a tourist card, you could get in big trouble and have to pay fines. What a waste of time too! So keep this in a very safe place - outside of your vehicle is recommended. TIP: You should also write down your tourist card number and keep that in separate place in case the original gets lost (if you have access to a copy machine, make a copy). Having your tourist card number will speed the process up if you lose your tourist card while in Mexico.
11: When leaving Mexico (at the end of your trip), you do NOT need to turn in your tourist visa at the border. It will just expire on its own when the 180 days are up. You can also re-use your tourist visa on your next trip to Mexico if it is still within the 180 day window of time.
Points of Confusion - Things to Be Aware of:
1: Tourist Visa, Tourist Card, FMT - these are referring to the same document.
2: Your tourist visa (FMT) is for you as a person. Each person in your group needs a tourist visa.
3: The tourist visa has nothing to do with a vehicle import permit. You need a tourist visa whether you are driving, flying, walking, or riding a burro to Mexico.
4: You will also need a vehicle import permit for the vehicle if you are driving outside of Baja beyond the 'border zones'. If you will only be in the Baja peninsula, you do NOT need a vehicle permit.
5: Again, when leaving Mexico, you do not need to turn in your visa at the border. It will expire on its own, and you can throw it away once it expires. You can just drive across the border into the US without worrying about your Mexican tourist visa. Keep it as a souvenir!