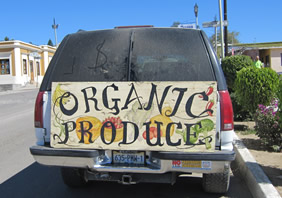 Organic produce can be purchased in Baja, but you need to know where to look!
Even though truckloads of organic produce are grown in Baja for consumption in the US, it is still very difficult to find vendors in Baja who sell organic fruits and vegetables. Luckily, there are a few small organic farms run by US expats who sell directly to tourists and Baja locals, but you need to know where to find them.
Three Locations to Buy Organic Produce in Baja
On my last Baja road trip, I found three places where many of the locals buy their organic fruits and veggies. I am certain there are more sources, but this is what I found in the few weeks I was in Baja: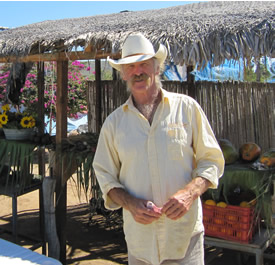 Todos Santos - Kayle Nordbo - Downtown Todos Santos - Every day except Sunday from 9:30am - 2pm
Kayle Nordbo is a US expat who now runs a full time organic farm in the Todos Santos area. He sets up his organic produce stand everyday except Sundays on one of the main roads in downtown Todos Santos. Instead of trying to give directions, it will be much easier for you to find him if you just start asking the local gringos where Kayle is, "the organic produce guy". We found him within a matter of minutes by using this technique (downtown Todos is not very big).
The day we visited his stand, we found a beautiful array of lettuces, greens, fennel, onions, oranges, and juicy sweet papayas. In just the few minutes we spoke with him, 4-5 regular customers bought their goods from his stand. It was clear that he had a healthy local following of happy customers. The papaya we bought from him was one of the best I ever had, and it was very reasonably priced.
Los Barriles - Cabo Pulmo Area
We spent the night just north of Cabo Pulmo, and the care takers at the place we spent the night at said they buy all of their fresh organic produce from someone near Los Barriles. They said he was in town 2-3 days a week, and he sold the produce out of the back of his car. All of the locals who care about organic foods know him and purchase from him. So if you are in this area, just start asking around.
San Jose del Cabo - Organic Farmers Market Every Saturday
Another great place to find organic goodies is at the Organic Farmers Market in San Jose del Cabo. I was not in San Jose on Saturday, so I was not able to witness this market, but I did hear good things about the selection and quality of produce. They even have a website: www.sanjomo.com
Although you may not be able to find organic produce at the grocery stores in Baja, there are places where you can find the good stuff if you are willing to do a little hunting and asking around. I have also heard from friends in Mulege and Bahia Concepcion that there is a local person who provides quality organic produce to the locals. So don't be embarrassed to ask around. There is a lot of organic produce being grown in Baja, so there is bound to be someone who knows how to get you a stash.