Free Mexico Map for Our Customers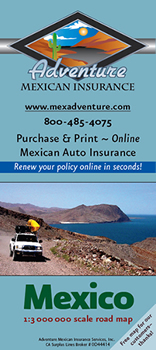 We appreciate your business!
To show our appreciation, Adventure Mexican Insurance has custom designed our own Mexico Road Map that we send to all of our customers for FREE!
Comparable maps of Mexico usually retail for $7.95 - but we would like to give this map to you for free!
We will mail this map to you once you purchase your Mexican insurance policy through our website or over the phone. The map will be mailed to the address you list on your policy.
This is just one of the extra services that we provide to ensure that our customers have the best experience possible. We go the extra mile for you!
Let us know if you have any questions - Adios!