Mexican Insurance for Quads and ATVs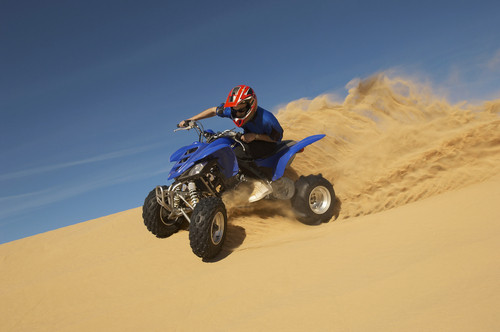 Adventure Mexican Insurance is proud to offer Mexican insurance for quads and other offroad vehicles.
Quads and ATVs are some of the most fun toys to bring to Mexico. Many areas of Mexico allow for miles and miles of wide open off road cruising. Finding the fun is easy, but finding quality Mexican insurance for your quads can be a difficult task.
Adventure Mexican Insurance offers many Mexico insurance solutions for your quads and other off road vehicles. We encourage you to call our office if you have any questions. Our team of professional agents can help you find the right Mexican quad insurance for your situation: 800-485-40754
Quads and other off road vehicles have 2 different statuses of insurance while in Mexico, and they need to be insured differently while in these statuses.
Status 1: Insuring Quad as a Towed Unit - While on a Trailer
Adventure Mexican Insurance offers Full Coverage (theft and collision) for quads while the quads are being towed and while on the trailer. This Full Coverage insurance can be covered by the Mexican auto insurance policy of the primary vehicle (the vehicle that is towing the quads). You can list your quads as towed units on your Mexican auto insurance policy.
Example: If you purchase a Mexican auto insurance policy through Adventure Mexican Insurance for your pickup truck, and then list that your are towing a trailer with 2 quads in the trailer, you will be able to insure the quads for Full Coverage while they are being towed.
NOTE: Not all of our Mexican carriers allow for full coverage on quads while being towed, so please contact our office if you wish to insure your quads for full coverage.
Status 2: Insuring Quads once they are off the trailer or driving under their own power
Quads will no longer be covered by the Mexican auto insurance of the towing vehicle (the vehicle that was towing the quads behind it) once the quads are removed from the trailer.
Once off the trailer, the quads will require their own individual Mexican insurance policy for each quad. Quads are only eligible for Liability Only coverage while they are driving under their own power. Adventure Mexican Insurance offers liability insurance for quads while they are driving on conventional roads.
If you plan to drive your quads on paved Mexican roads, we highly suggest that you purchase Mexican liability insurance for your quads. If you are involved in a traffic accident with your quad on a Mexican road, the Mexican authorities will require proof of Mexican liability insurance. If you do not have this coverage, you could risk going to jail until you can pay for the damages you caused, and your quad could be confiscated.Read more about why you need Mexican liability insurance.
We also provide Mexico insurance coverage for off-road motorcycles, so make sure to read about our Mexican insurance for off road motorcycles and dune buggies.