Mexican Insurance for Off-Road Motorcycles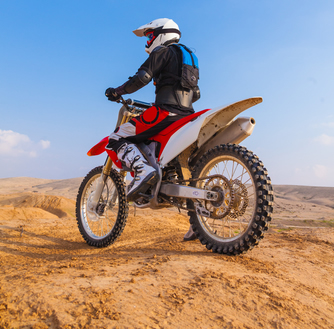 Insuring your Off-Road Motorcycle in Mexico requires a little of bit research to find the right insurance coverage for your situation.
Adventure Mexican Insurance provides a number of Mexico insurance solutions for off-road motorcycles and dirt bikes. We highly recommend contacting our office if you have any questions. Our licensed insurance agents are happy to explain all of the coverages and ensure that you are getting the correct Mexican insurance for your off-road motorcycle: 800-485-4075
Off-Road Motorcycles require insurance while being towed and while they are off the trailer and driving under their own power.
The information on this page only applies to Off-Road Motorcycles. STREET LEGAL motorcycles have completely different insurance rules and requirements, so please read our page about Mexican insurance for street legal motorcycles if your motorcycle is street legal.
It is important to understand that Off-Road motorcycles require different types of Mexico insurance for while the bikes are being towed and while the bikes are off of their trailer and being driven.
Adventure Mexican Insurance can provide Full Coverage (Theft & Collision) for off-road motorcycles while the bikes are being towed. For Full Coverage insurance, you can list the dirt bikes as Towed Units on your Mexican auto insurance policy. For example, if you purchase a Mexican auto insurance policy on your pickup truck, you can list the motorcycles as towed units on the pickup truck's Mexican auto insurance policy. Some of our Mexican carriers allow for full coverage on bikes as towed units, and some do not, so we highly recommend calling our office to make sure you are purchasing Mexican insurance with one of our companies who do allow for this coverage.
Once the motorcycles are taken off of the trailer, the Mexican auto insurance for the primary vehicle (in the case of our example, the pickup truck) will no longer extend full coverage to the motorcycles.
Adventure Mexican Insurance offers Mexican liability coverage for off-road motorcycles while they are being driven under their own power. These policies are highly recommended if you plan to drive your bike on paved roads in Mexico. If you are in a traffic accident with your off-road motorcycle while driving on a Mexican road, you will be subject to the same traffic laws as a street legal vehicle. The authorities will require proof of Mexican liability insurance, and if you fail to produce this, your bike could be confiscated and you could be held in jail until you pay for any damages you caused to third parties. More information about why you need Mexican liability insurance.
Adventure Mexican Insurance also offers Mexico insurance coverage for quads and ATVs. Please make sure to read our information about the rules for insurance for quads in Mexico and dune buggies.