Mexican Insurance for Dune Buggies and Sand Rails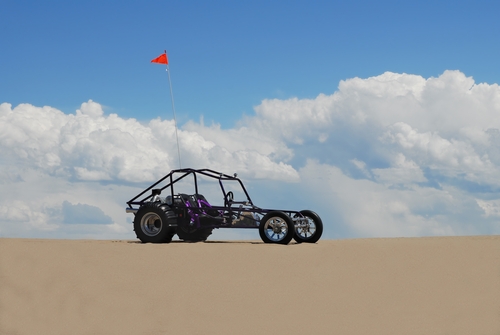 Adventure Mexican Insurance is one of the few Mexico insurance brokers who can actually provide Full Coverage (theft & physical damage) insurance for dune buggies and sand rails while in Mexico.
It is important to note that this Full Coverage Mexico insurance is only in effect while the dune buggy is being towed or while on a trailer, but at least we are able to provide insurance coverage if your dune buggy were damaged or stolen while it was being towed by another vehicle. Most Mexican insurance brokers can not provide any type of coverage for these vehicles.
If you plan to drive your dune buggy on conventional roads in Mexico, you will also need to get Mexican liability insurance. This liability insurance policy will pay for damages you cause to third parties while driving on Mexican roads. Adventure Mexican Insurance provides this Mexican liability insurance for dune buggies, sand rails, and other types of off-road vehicles. Please call our office for an instant quote 800-485-4075
Adventure Mexican Insurance can insure most Dune Buggies and Sand Rails for Full Coverage (theft & collision) while they are on the trailer. HDI Seguros is one of the only Mexican insurance companies who will allow this coverage, but you need to call our office to make sure you are purchasing the correct Mexico insurance policy for your dune buggy.
When you purchase full coverage Mexican auto insurance for your primary vehicle, for example a pickup truck, you can then list your dune buggy as a towed unit for your pickup truck on the pickup truck's Mexican insurance policy.
As soon as the dune buggy is removed from the trailer, the full coverage provided by your pickup truck Mexican insurance policy will no longer cover your dune buggy. You will need to purchase a Mexican liability policy specifically for the dune buggy if you plan to drive the dune buggy on Mexican roads. This Mexico liability insurance policy will protect you if you are in a traffic accident on Mexican roads.
Read more about why you need Mexican liability insurance while driving on roads in Mexico.
Please note that you will not have any insurance coverage while you are driving off-road. Although off-roading is a lot of fun, you should understand that you are playing at your own risk.
Adventure Mexican Insurance also covers quads and off-road motorcycles in Mexico.