Mexican Insurance for Church Groups & Mexico Missions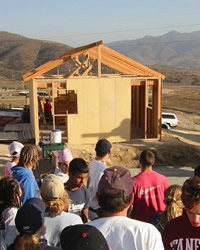 Adventure Mexican Insurance is proud to provide the Mexican auto insurance for many church and charity groups who do volunteer work in Mexico.
Many of these church and charity groups do home building projects for the needy. This can create unique challenges for Mexican insurance because these projects often require box trucks and shuttle vans to transport the building materials and large groups of people.
Other charity projects involve bringing food and supplies to Mexican people in need. These projects also require trucks and shuttle vans to deliver the supplies and transport the charity and church volunteers.
We have worked hard to develop insurance products and programs to handle some of the special requirements of these groups. Our Mexican insurance programs for charity groups allow your charity to focus on your mission of helping the people in need while Adventure Mexican Insurance takes care of all of your Mexico insurance needs.
If you are leading a group of people to Mexico, we recommend giving our office a call so we can explain all of the options for insuring your vehicles.


Insurance Solutions for Church and Volunteer Groups:
Mexican Auto Insurance for Shuttle Vans
We offer Mexico insurance which provides coverage for shuttle vans and shuttle buses. We can insure shuttle vehicles for 'Full Coverage'.
Mexican Auto Insurance for Rental Trucks and Vans
Finding a Mexican insurance provider to cover rental trucks -especially box trucks - can be a difficult task. Adventure Mexican Insurance partners with a number of truck rental companies throughout the country. Not only can we provide you with excellent insurance, we can also refer you to rental companies who allow their vehicles to be taken to Mexico.
Mexico Insurance for Passenger Vans
Whether you own or rent a passenger van, we can easily provide the Mexico auto insurance for your next trip to Mexico.