Fish of All Stripes
Snorkeling in Parque Nacional Cabo Pulmo
By Molly

After one night in San José del Cabo, Maria and I were ready to retreat back into nature. We loved exploring the city on its lively Art Walk night, we experienced a bit of culture shock. Crowds, traffic and loud noises bombarded us upon returning to civilization, and we weren't fully ready for it. In our minds, we were still soaking in hot springs under a sky full of stars.
We decided that Cabo Pulmo, located on the coast around two hours northeast of San José del Cabo, was remote enough for a beach escape from the city, but close enough that it could be a day trip. It was the last day of our Baja adventure together; I had a flight out of San José del Cabo early the next morning.
We had read that Cabo Pulmo boasts the Parque Nacional Cabo Pulmo, containing one of only three coral reefs in North America, and the only living coral reef in the Sea of Cortez. In 2005, the protected marine reserve, which attracts large schools of tropical fish, sea turtles, dolphins, sharks, whales, stingrays and more, was recognized as a World Heritage Site by UNESCO. We had also read that Playa Los Arbolitos, just south of the village of Cabo Pulmo, was one of the best places in the area to snorkel—if it wasn't too windy. Our plan was to get underwater and explore the reef, which would be easy to access from the beach.
Getting out of the city was tricky, but as soon as we did, we were happy to be headed to the remote coastal spot. Looking at the map, we figured that we could take the road that hugged the coast of the East Cape. But when we stopped to ask a man for directions to the road, he told us that our car wouldn't make it; it was a dirt road that would be too treacherous. So we turned around and jumped on Route 1 north. We had to go up a ways before we could cut over to the coast, but when the road opened up, it was gorgeous. We could see the Sierra de la Laguna in the distance, and we passed giant cacti, goats, cows and wild horses. When we got close to Cabo Pulmo, the road turned to dirt and the bright blue Sea of Cortez lined the road to our left. I stood on my seat and admired the landscape from the sunroof as Maria navigated the bumps and dips. We were back in our element and full of joy.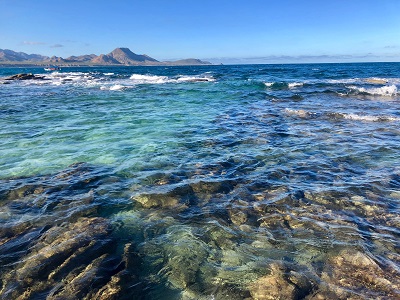 The tiny village of Cabo Pulmo had a couple of places to eat, dive shops, rustic accommodations and a relaxed beach vibe. Right before we turned from the village down a road to Playa Los Arbolitos, we were waved down by a young woman. She and her friend were camping at the snorkeling beach and had hitched a ride into the village for beer; they needed a ride back, so we cleared the back seat and welcomed them to join us. They had been staying at the beach for a couple of days, and we got the sense that they never wanted to leave. They told us that a man there would greet us and offer us snorkeling gear, and that we should walk up the hill to the right and hike along the coast for the best spot to get in the water. We dropped them off at the parking area at Playa Los Arbolitos, where the man they had described was renting snorkeling masks, flippers and life jackets from a straw hut. It cost 40 pesos each to park for the day and use the rustic facilities, and 150 pesos each to rent the snorkeling gear. Maria wasn't too keen on getting in the water, so we just rented gear for one.
Heading up the wildflower-lined path to the right, we could see a couple of tents on the beach and jagged mountains beyond clear turquoise water that turned deep blue. There were a few little coves to choose from for protected snorkeling; one had a small boat anchored in it, and snorkels bobbed out of the water around it. We picked a cove nearby that was quiet and covered in colorful shells. Maria found a spot to settle in and read, and I geared up. It was windy and a bit chilly, and there were a lot of waves coming crashing in. But I was excited to see what kind of creatures lived on the coral reef. I walked down to the shore in my gear, and then turned around to give Maria a thumbs up before stomping into the water.
It was freezing, and the waves were making me dizzy. But as soon as I was underwater and saw hundreds of colorful fish gliding by in all directions, I decided that I could happily spend hours there. I saw big brown fish with white spots, baby blue fish with black and yellow stripes, long blue and green fish with pink heads, tiny fluorescent purple fish and more, swimming in and out of the mustard-colored reef. Mesmerized by the rainbow of colors and thrilled every time a new fish appeared, I reminded myself to occasionally stick my head above water to give Maria a thumbs up.
At some point I realized that it was getting late in the day, and that we'd have to return to San José del Cabo before dark. So I got out, and couldn't wait to tell Maria what was underwater. Wrapped in a towel, I grabbed my sketchbook and drew the fish that I had seen, labeling their colors so I wouldn't forget them. We hiked back along the coast in golden sunlight to the little hut, thanked the man who had given us the snorkeling gear and drove back down the dirt road. When we were past Cabo Pulmo, the sun was setting. We stopped a couple of times to stare at the Sea of Cortez in the glowing colors of twilight, and we were grateful for the solitude.
On the way back, I stood barefoot through the sunroof of our trusty car for the last time, the wind drying my wet hair, and we watched the moon come up over the mountains. I couldn't think of a better way to end an epic road trip through Baja with one of my favorite people.