La Lupita Taco & Mezcal, San Jose Del Cabo
Celebrating with patio dining and live music
By Molly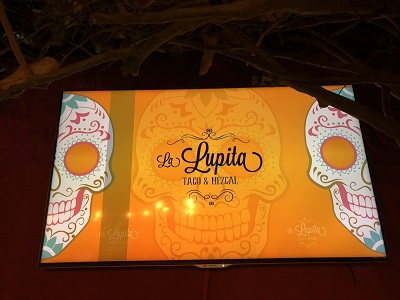 Maria and I had read that San Jose del Cabo was a more laid-back version of Cabo San Lucas. We preferred "a more authentic Mexican experience" to party central, and happened to land in San Jose del Cabo on the night of the city's weekly Art Walk. Galleries on the streets surrounding a historic plaza were open late, and there was live music, dancing and a festive vibe all around us. We arrived on the the second-to-last night of our Baja adventure together, and we soaked it all in, exploring the plaza, talking to working artists and sipping samples of tequila.
The next night would be our last, and we wanted to find a special place to celebrate all that we had experienced on the trip. We chose La Lupita Taco & Mezcal, a restaurant with a back patio where a live band played on a stage high above the tables.
The walls were bright pink, and a massive sugar-skull mural adorned the wall behind the band. We sat at a tall table in front of the tiled bar, next to a long table of very drunk and very loud Americans, and we were happy for the entertainment.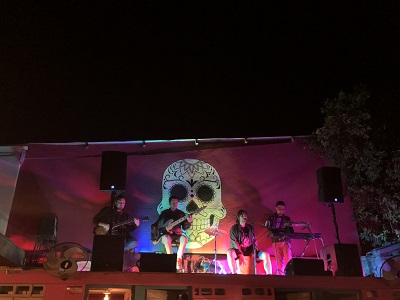 The menu included creative cocktails and flights of mezcal, three different kinds of ceviche, cactus paddles, Mexican lentil soup and a roasted beet salad. But the rest of it was devoted to tacos, which were the main draw. Categorized into 'The Classics', 'Birds', 'Beef', 'Pork', 'Lamb', 'Fish & Seafood' and 'Veggie', they featured inventive ingredients like smoked cauliflower pureé, grilled pineapple, fresh mint and corn with turmeric. There were so many appetizing combinations of flavors that it was hard to choose. We settled on a few different tacos, and they arrived quickly, with plenty of fresh limes and sauces.
The band played in the background while we ate, and the drunk Americans danced and yelled.
"Muchas Gracias," the band said, as they ended their set. "Buenas noches!"
"Una mas!" the drunk Americans begged. Soon they were swinging each other around to "Play That Funky Music." We chuckled because it was such a drastic change from the quiet hot springs of the Sierra de la Laguna, where we had camped just a couple nights before.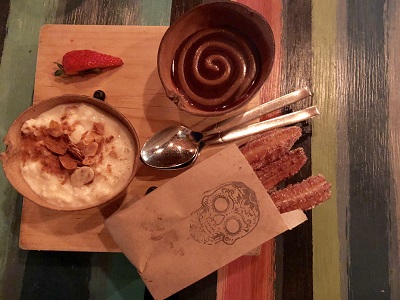 After sweet churros for dessert, we walked back to our hotel. A taxi was scheduled to pick me up at 4:30 a.m. and take me to the airport, and later that day, I'd get to hug my sister on a beach near Puerto Vallarta. I couldn't wait.
On the sidewalk, a pile of brightly colored papel picado flags, once probably flapping in the wind, hinted at the revelry from the night before. We laughed, and in the quiet streets, reflected on our Baja adventure. I was going to miss my co-pilot and hoped that she'd be OK on her way back up to California. I knew that I'd dream about all of the miles that we covered and the beauty that we saw. But I also knew that we'd always feel a pull to return.