Public Charter Busses are a Safe & Convenient Way to Explore Mexico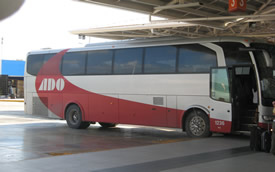 Exploring new parts of Mexico for the first time can be a confusing and sometimes hazardous experience if you are driving your own vehicle. Mexican road conditions can be full of surprises, so you may want to consider taking a charter bus for your first trip to a new location in Mexico.
While staying in Playa del Carmen on a recent visit to the Yucatan Peninsula, we decided to visit the city of Merida, a colonial city in the state of Yucatan that is about four hour drive from Playa del Carmen.
We had three choices for how to make the journey:
1: Drive our friend's car
2: Rent a car and drive it to Merida
3: Ride the public bus
Although riding a bus did not sound as adventurous as the first two options, we decided to give it a try for the following reasons.
For two people, the bus was less expensive than renting a car. The bus tickets cost $25 for each person each way. A rental car with adequate full coverage Mexican insurance cost around $60 per day.
Once we arrived at Merida, we would not have to worry about trying to park the car.
The bus is a safe way to learn the route for the first time. We could learn of any surprises while riding the bus, so we would be prepared to deal with these situations the next time we drove our own vehicle.
The bus has fairly comfortable seats and air conditioning, so we could actually take a nap if needed.
It turned out that all of our reasoning was correct, and the bus was a great way to make the trip. The bus was very comfortable and similar to a Greyhound bus here in the US. (This was no chicken bus). The tickets included the cost of crossing the state line into Yucatan from Quintana Roo, and the bus made it easy to deal with the military check point at the state line. We never had to stop and ask for directions either! It was also a relief to not have to worry about parking a car once we arrived in Merida.
The downside of taking the bus was the lack of freedom. We wanted to stay in Merida a few more hours to see a festival, but we had to miss the festival because our return bus only ran once per day at 11am. We also wanted to check out some of the Mayan ruins nearby, but we will have to wait for our next trip to visit those.
Now that we have visited Merida, we know we want to visit again the next time we are in the Yucatan Peninsula. Although our next trip will be with our own vehicle, the bus was a great safe way to make our first reconnaissance mission.