Acapulco - Resort Vacationing in Mexico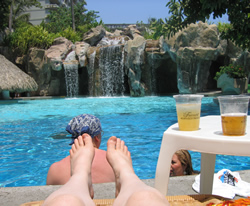 Acapulco is one of the original Mexican resort destinations. If you are looking for a small deserted village by the sea, Acapulco should not be your first choice. However, If you are looking for a luxurious resort type vacation with exciting night life and luxurious restaurants, then Acapulco will surely satisfy.
Acapulco is located in the Mexican state of Guerrero. Downtown Acapulco is a busy mini-metropolis filled with high rise condos, nightclubs, and traffic - while on the outskirts of Acapulco, you will find the newer oasis style mega resorts.
People do not come to Acapulco to go hiking or bird watching - they come to party!
While laying poolside with your favorite cocktail is activity numero uno, you can also stroll the beach, ride horses on the beach, or visit the spas.
If you venture into downtown, there is a great restaurant built into the cliffs where you can watch the famous cliff divers leap into the ocean. If they don't time the waves correctly, there is a chance you could see one of them smash into the rocks below. Thankfully, this has only happened a few times in the last 50 years.