Cows on the Highway in Mexico
Another Reason to Buy Mexican Insurance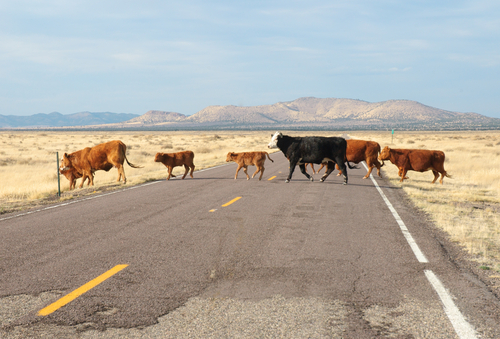 Many of the roads and highways in Mexico are very narrow and require extreme caution. To add to the danger factor, many of the Mexican highways are also magnets for cows and other livestock such as horses, goats, and pigs.
These animals lazily graze on the sides of many Mexican roadways. If the grass appears tastier on the other side of the highway, the cows do not hesitate to slowly meander into the middle of the road (often around blind corners).
Cows are often on the roads as night, which makes night driving even more dangerous in rural areas of Mexico!
Hundreds (if not thousands) of traffic accidents are caused by livestock every year in Mexico, so we can not stress enough how careful you need to be when driving in an area where livestock is roaming free.
Mexican Auto Insurance Covers Accidents with Livestock
Your Mexican auto insurance will cover collisions with livestock, however, you obviously should do everything you can to avoid this type of accident. Not only is the cow severely injured or killed when hit by cars, but the vehicle is often totaled and serious injuries to passengers are not uncommon.
On a recent road trip I took to La Paz, Baja Sur, I saw more than 50 cows along Highway 1 between Cabo San Lucas and La Paz. When returning to Cabo, I decided to take the 19 through Todos Santos along the Pacific coast. I did not see one cow during this drive, however, I did come across a small herd of goats that was nibbling at the side of the highway.
Please visit this page for more Safety tips for driving in Mexico