Who Needs a Mexico Fishing License & How to Get One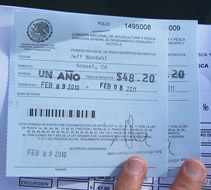 Effective January 2008, boat permits are no longer required for vessels practicing sportfishing in Mexican waters.
Shore Fishing Does NOT Require a Mexican Fishing License
You do NOT need to purchase a Mexican fishing license if you are only going to be fishing from the shore while in Mexico. This includes surf fishing from the beach, fishing from the rocks, or fishing from a pier.
Unlike the US state of California where you need a fishing license for any type of ocean fishing, Mexico does not require a fishing license while fishing from shore. The gentleman at the CONAPESCA (Mexico's National Aquaculture and Fishing Commission) explained to me that this rule applies to both Mexican citizens and tourists. Because many Mexican families depend on shore fishing to feed their families, Mexico allows shore fishing for free.
Mexican Fishing Licenses ARE Required When Fishing from Any Type of Boat or Flotation Device
A flotation device includes all types of motorized boats, but also includes non-powered flotation devices such as sea kayaks, surfboards, or even an air mattress. In a conversation with the CONAPESCA office, I specifically asked about fishing from my surfboard, and they confirmed that technically, this required a fishing license.
All Passengers, Regardless of Age, Are Required to Carry a Fishing License While On Board a Boat Involved in Fishing
Even if some passengers are not actually fishing, they are are still required to have a fishing license!
Technically, even if nobody on board the boat is fishing, but there is a fishing pole, fishing tackle, or any type of fishing equipment on the boat, every single passenger should have a valid fishing license with them. That is the rule.
Travel Tip: Even if you think you will only be fishing from shore this trip, get a Mexican fishing license anyway
Traveling in Baja or any part of Mexico is full of surprises and spontaneous adventures. If you enjoy fishing, it is highly recommended that you purchase a Mexican fishing license for the duration of your trip so you are prepared if the opportunity arises to go fishing from a boat. You could meet some new friends at your campsite who have a boat - and what a bummer to decline their invitation to go fishing with them because you didn't get a fishing license!
Fishing License Prices: (check with CONAPESCA for most current pricing)
1 Week: $25.80
1 Month: $37.00
1 Year: $48.20
How To Purchase Your Mexico Fishing License
There are four ways to purchase a Mexican fishing license
1: In Person from the CONAPESCA Office in San Diego
If you are traveling to Baja and will be driving through San Diego, you may want to consider this option. The entire process takes 15 minutes or so, and guarantees your Mexican fishing license will be in your hands before entering Mexico. Office hours are Monday - Friday from 8am - 2pm Pacific time. Please see specific details on how to purchase your license in person from the San Diego CONAPESCA office>>
2: By Mail
If you will not be driving through San Diego, or you do not want to deal with stopping at the CONAPESCA office, purchasing your Mexican fishing license through the mail is also an option. CONAPESCA informed me that 90% of their fishing licenses are processed through the mail, so they have the process worked out very efficiently. You will need to fill out the Fishing License Application (available online), then mail the application to the San Diego office with a money order or cashier's check (no cash or personal checks accepted) along with a self addressed and stamped envelope. Licenses are processed the same day their office receives them. In a pinch, CONAPESCA will overnight fishing licenses to you, but you must make arrangements for this service by calling their office.
3: Through a Travel Club
Some Mexico travel clubs, such as Discover Baja Travel Club can provide their members with Mexican fishing licenses for a small fee. This allows you to pay by personal check or credit card to the club instead of paying by cashier's check or money order to CONAPESCA.
4: Purchase in Mexico from a Local CONAPESCA Office - Not Recommended
This method of obtaining your Mexican fishing license should only be used as a last resort if you forgot to buy your fishing license before entering Mexico, or if you lose your fishing license while in Mexico. The San Diego CONAPESCA office informed me that these local offices in Mexico do not cater to tourists like the San Diego office does, and they said it can be difficult paying for the license and even finding the correct person to help you. For this reason, we recommend that tourists acquire their Mexican fishing licenses prior to entering Mexico.
There are local CONAPESCA offices in the following locations:
Baja: Ensenada, La Paz, Cabo San Lucas, San Felipe, Santa Rosalia, and Loreto.
Pacific Coast: Puerto Penasco, Guaymas, Mazatlan, and more...
Other Things to Be Aware of in Regards to Sportfishing Licenses:
Print and carry a copy of the Mexico sportfishing rules and regulations with you at all times to make sure you are not accidentally violating a law.
Be aware that the capture of clams, scallops, lobster, and other shellfish and mollusks are technically not allowed under a fishing license (many tourists go clamming for fun, but be ware that this could technically get you if the authorities caught you).
Get the most current prices and application forms directly from the CONAPESCA website (some outdated versions could be floating around on unofficial websites).
The CONAPESCA phone office hours and walk in hours are 8am - 2pm Pacific time Monday - Friday (619) 233-4324