Mexico Fishing Licenses and Mexico Boat Permits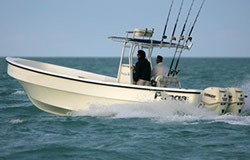 If you are planning on bringing a boat into Mexico, it is extremely important that you understand all of the rules and regulations for boating in Mexico. Make sure to read the Sportfishing Regulations from the Mexican Oficina de Pesca (Fishing Office) before you bring your boat into Mexico. Failure to comply with the rules could result in serious fines and your boat being confiscated!
Update: Effective January 2008, boat permits are no longer required for vessels practicing sportfishing in Mexican waters.
However, you sill still need fishing licenses for everyone on board the boat!
Please also read important information on how to insure your boat while in Mexico.
How to obtain your Mexican fishing licenses:
---
Mexican Fishing Licenses Are Now Available ONLINE!
Finally, Mexican fishing licenses can be processed, paid for, and printed ONLINE in a matter of minutes from your computer. The website works 24 hours a day / 7 days a week.
The entire process only takes a few minutes, and it is very easy to use. However, we recommend processing your permit a few dyas before you leave (do not wait till the last minute) in case of any technical problems. They do have customer support, so you can contact CONAPESCA if you have trouble with the online process.
Click here to process your Mexican Fishing License online >>> http://www.bestbajafishing.org/fishing-permits.php
---
You can contact the Mexican Oficina de Pesca in San Diego, CA
CONAPESCA
Phone: 619-233-4324
Fax: 619-233-0344
CONAPESCA website: http://www.sportfishinginmexico.com


Boat Permit Fees:
Effective January 2008, the fishing permit for boats that was required along with Mexican fishing licenses is no longer needed. This refers only to the boat's yearly sportfishing permit and applies in all of Mexico. All other documentation requirements, including the vessel's 10 year temporary import permit, issued by Mexican customs and required in order to keep you boat in Mexico up to 10 years, are still in place and were not modified in any way. read more >>
Fishing License Fees (per person):
| | |
| --- | --- |
| 1 Week | $25.80 |
| 1 Month | $37.00 |
| 1 Year | $48.20 |
Mexican Sportfishing Regulations
In order to operate a boat that carries fishing equipment in Mexican waters, it is necessary to hold a valid boat permit and personal fishing licenses for everybody aboard the boat, regardless of age and whether they are fishing or not. A Fishing License is not required when fishing from land.
Only one rod or line with hook is permitted in the water, per person, but there is no restriction regarding the number of replacement items.
With the exception of squid, this fishing license allows to capture only fin fish. It does not allow to capture any mollusks or crustaceans, and their capture by anyone is strictly prohibited. Totuava, turtles, and marine mammals are under protection of the Ministry and may not be captured at any time.
To capture bottom fish, up to four hooks on a vertical line may be used.
The use of electronic reels is restricted to disabled fishermen only, after written authorization for the Ministry before use.
Mexico Fishing Violations
It is illegal to capture and maintain alive any fish for ornamental purposes.
It is prohibited to receive any financial gain from the product obtained through sportfishing.
It is prohibited to dump trash, litter, or substances that harm the aquatic flora or fauna, whether on lakes, river banks, shores, or oceanic waters.
It is prohibited to collect shells, corals, sea anemones and snails,or to disturb the original ecosystem environment.
It is prohibited to practice sportfishing 250 meters or less from swimmers.
It is prohibited to use artificial lighting to attract large quantities of fish.
It is prohibited to discharge firearms in Mexican waters.
Fish caught under a sportfishing license may NOT be filleted aboard vessel from which it was caught.
It is requested that all unusual activities, occurrences or record catches be reported to the nearest office of the Oficina de Pesca, or its representation in San Diego, CA, in order to ensure the preservation of the natural resources for the continued enjoyment of all fishermen.
Please practice responsible sportfishing.