SENTRI Pass - Drivers Save Hours Crossing
the Border Back into the US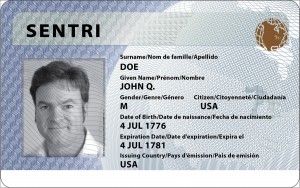 SENTRI - Secure Electronic Network for Travelers Rapid Inspection
With the new Passport requirements for crossing the US / Mexico border by land, the SENTRI Pass makes even more sense if you travel to Mexico frequently.
If you hate waiting in vehicle traffic to cross back into the US from Mexico, you should seriously consider acquiring a SENTRI Pass. During busy border crossing times, the SENTRI Pass can literally turn a 2 hour wait into a 10 minute wait. For just over $100 per year, a SENTRI Pass could be the best money you ever spent.
Here is a government link that explains the SENTRI Pass system: http://usa.immigrationvisaforms.com/travel/sentri-pass
If you are unfamiliar with the new US passport requirements for land travel accross the US / Mexico border, please read about the new passport laws.
Who is eligible for a SENTRI Pass?
Anyone can apply. There are no restrictions on how many times you cross the border.
However, the SENTRI Pass system is designed for 'low risk' people. People with any penalties, violations, convictions, or pending law enforcement investigations will not be considered for the SENTRI Pass program.
How does it work?
There are special SENTRI Pass only lanes at many of the busy border crossing points (see list below). It is similar to a carpool lane or FastTrack toll booth lane. SENTRI Pass holders can use these lanes which are significantly less populated. When you approach the border, you present your electronic SENTRI Pass card, and it is scanned by a machine. SENTRI Pass holders also have a transponder adhered to the vehicle's windshield which also communicates with the border patrol computer system. This quick scanning system allows SENTRI Pass holders to pass through the border at a rate of about 10 seconds per vehicle.
How do you apply?
The easiest way to apply for the SENTRI Pass is through the internet. http://usa.immigrationvisaforms.com/travel/sentri-pass
You can also visit the SENTRI Pass Enrollment Centers in person or call them at the following locations:
California
San Ysidro
795 B East San Ysidro Blvd
San Ysidro, CA 92173
(619) 690-8841
Hours - Monday - Friday 8:00AM to 4:00PM
Otay Mesa
2500 Paseo Internacional
Otay Mesa, CA 92143
(619) 690-7600
Hours - Monday - Friday 8:00AM to 8:00PM
Calexico
1699 East Carr Road
Calexico, CA 92231
(760) 768-2488
Hours - Monday - Friday 8:00AM to 4:00PM
Arizona
Nogales
9 North Grand Avenue
Nogales, AZ 85621
(520) 375-5801
Hours - Monday - Friday 8:00AM to 4:00PM
San Luis
Highway 95 and International Border
San Luis, AZ 85349
(928) 722-6801
Hours - Monday - Friday 8:00AM to 4:00PM
Texas
El Paso
797 S. Zaragoza Road, Building A
El Paso, TX 79907
(915) 872-3472
Hours - Monday - Friday 8:00AM to 10:00PM
Brownsville
3300 South Expressway 77/83
Brownsville, TX 78520
(956) 983-5668
Hours - Monday - Friday 8:00AM to 4:00PM
Hidalgo
Hidalgo / Pharr / Anzalduas Ports of Entry
5911 S Stewart Rd
Mission, TX 78572
(956) 205-7929
Hours - Monday - Friday 8:00AM to 4:00PM
Laredo
Lincoln/Juarez Bridge Adm Bldg 2
Laredo, TX 78040
(956) 523-7399
Hours - Monday - Friday 8:00AM to 4:00PM