Xel-Ha - Snorkeling and Dolphin Encounters
Xel-Ha is one of the most popular natural water parks in the Cancun region. It is extremely commercial and touristy, but it is still a nice way to spend an afternoon.
If you plan to visit the Mayan ruins of Tulum, then most of the guided tours include Xel-Ha as the afternoon part of the expedition.
The snorkeling is pretty lame compared to actual boat trips that go out into the coral reef, but Xel-Ha is a nice controlled environment for those who do not wish to dive into the unpredictable open ocean.

Xel-Ha also has a long cenote (probably a little over a quarter mile long) that you can slowly float down on an inter tube. You can also stop to do some cliff diving as you float through the rocky crevices.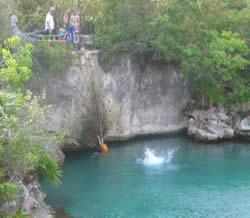 The highlight of Xel-Ha (and the most expensive part) is the opportunity to have a dolphin encounter. It is fairly expensive (about $100 per person), but it also makes for a once in a lifetime experience. If you want to do this, you need to make a reservation at the time you book your trip.
If you decide to cough up the dinero, you will be treated to about 45 minutes of floating around in a lagoon filled with dolphins. The dolphin trainer allows you to pet the dolphin, get splashed by them, feed them snacks, and get showered with their kisses on your face. Then comes the grand finale. Each participant lays on their stomach in the water waiting, and waiting, then suddenly two dolphin slam into the arches of your feet and lift you out of the water. If you don't bend your knees, you will actually water ski on their noses for about 30 to 50 feet. If you don't feel bad about the commercial exploitation of these beautiful and intelligent creatures, it can be quite an experience. (To the ordinary tourist, the dolphin do appear in very good health, and the trainers seem very kind - not any different than Sea World here in the US).
After your dolphin encounter, you will be invited to view the photos and video tape that the Xel-Ha employees took of you. (No personal cameras allowed during your dolphin encounter). Prepare to be exploited - The photos and video will cost you close to another hundred dollars!
NOTE: Dolphin encounters are controversial for some folks because of the captive dolphin issues.
For more information, visit the Xel-Ha website: www.xel-ha.com