Satellite Phones in Mexico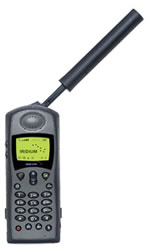 Satellite Phones Work in All of Baja - Rentals are Affordable
Cell phones do NOT work in most of Baja, but satellite phones work everywhere!
If you are driving in Baja, you will soon find that your cell phone does not get reception once you get an hour over the border. The entire peninsula becomes a cellular dead zone until you approach the Los Cabos area at the southern tip of the peninsula.
If you need to stay in communication with your family or work, a satellite phone is an easy solution. Satellite phones work anywhere in the world - and they definitely work everywhere in Baja. They will even get excellent reception from on a boat miles offshore. All you need is to be able to see the sky.
As a Mexican insurance provider, we also encourage our customers to carry satellite phones in case of emergencies. If you are in an accident or experience some other type of emergency in a remote area, you can quickly call for help with a satellite phone. Our Mexican insurance claims phone numbers work with satellite phones. Our Mexican insurance also includes road assistance coverage which can assist you with small things such as flat tires, running out of gas, and towing. Without a satellite phone, you will have no choice but to wait for someone to drive by and find you (if you're really out there, it could be a while).
I just returned from a two week road trip through Baja, and my rental Iridium satellite phone worked great every time I needed to use it. I was able to make phone calls back to the US while sitting on remote beaches, and I could receive voicemail messages from people who needed to reach me. You can also receive phone calls on the satellite phone, but I kept the phone turned off for most of my trip. I did check voicemail a few times each day.

Satellite Phone Rentals are Reasonably Priced
I rented my satellite phone from All Road Communications in San Diego. I chose them because they have a good reputation for customer service and pricing, but even better, I could pick my satellite phone up in person while driving through San Diego on my way to Baja. Their office is just off Highway 5, and it is within seconds of the CONAPESCA office where I picked up my Mexican fishing license. Picking up the phone in person saved me about $70 in shipping cost, and the whole process took less than 15 minutes. I enjoyed getting a demo in person from their staff as well. For your convenience, they can also ship the phone to you, but you pay the shipping costs.
Rental pricing was $39.99 per week, plus you need to pay for your minutes. I highly suggest getting one of their minute bundle programs such as 90 minutes for $1.59 per minute (total cost $143.10). If you do not purchase a bundle, you will pay $1.99 per minute. My Baja trip was a little over two weeks, and my entire bill was about $300 for the satellite phone. I did use it quite a bit due to some emergencies that needed to be handled back at the Adventure Mexican Insurance offices in Santa Cruz, CA. Although it was not cheap, the phone paid for itself by allowing me to make some work decisions that needed attention while I was gone.
How a Satellite Phone Works
For the user, a satellite phone works almost exactly the same as a cell phone. Don't be intimidated. When you need to make a call, you simply turn the phone on, then dial your number and hit 'send'. The antenna is bigger than a cell phone, but that is about the only difference for the user. If someone calls you, the phone will ring, and you just hit the answer. You will need to give your friends back in the US your satellite phone number so they can call you. There is also voicemail, so you can keep your phone turned off to save the battery, and check voicemail every day.
NOTE: The satellite phone will slow down your voice just a bit, so warn people your are speaking with about this phenomena. If you do not explain that satellite phones slow your voice down a little, they may think you are drunk!
The satellite phones work everywhere because the signal is coming from a fleet of satellites orbiting the earth. Supposedly there are 30 or more satellites that work in tandem, so you will always have reception 24 hours a day.
Iridium is the Brand of Satellite Phone You Want - NOT Global Star
Make sure to rent an Iridium satellite phone - NOT a Global Star. Currently, the Global Star satellites are not working very well, so it is very difficult for Global Star customers to get reception. I have heard that Global Star customers sometimes have to wait 30 minutes in order to get reception, and the calls can drop off without warning. Global Star phones may be cheaper to rent, but they do not work!
So make sure you only rent an Iridium satellite phone. All of Iridium's satellites are working, and all customers report excellent reception with the Iridium satellite phone network.