Water Ferry Between Cozumel and Playa del Carmen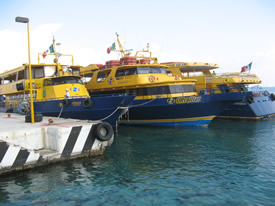 There is no land bridge between the island of Cozumel and mainland Mexico, so the only means of transportation is via water ferry. There are currently two major water ferry companies - Ultra Mar and Water Jet - who provide trips every hour between Cozumel and Playa del Carmen. These particular boats are for passengers only (no cars), and the trip takes about 30 minutes.
The ferries are not much different than riding a bus. You can purchase your tickets at the port, then just jump on the boat and go.
Ferries consistently run every hour up to 11pm, and tickets cost about $8-10 each way.
If you are prone to sea sickness, you should definitely take some motion sickness medication before jumping on the ferry.
Once you get off the ferry, you will find plenty of taxis, rental car outfits, and Playa del Carmen has two bus stations that have trips going everywhere in Mexico. If you rent a car, make sure to purchase Mexican auto insurance! Read more about how to shop for Mexican insurance for rental cars in Mexico.