Mexico Insurance for 5th Wheel Trailers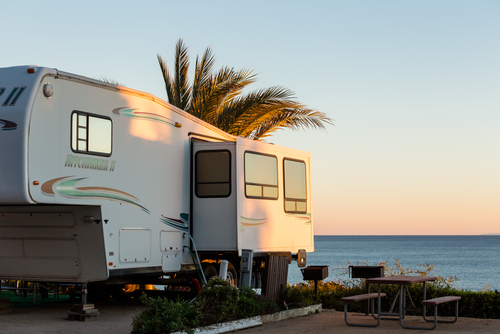 Adventure Mexican Insurance offers many special Mexico insurance programs for 5th Wheels and other recreational vehicles. Our Mexican RV insurance can cover US or Canadian registered RVs that travel into Mexico.
Our Mexican 5th Wheel insurance Special Features
Caravan Discounts if you are traveling with a caravan group to Mexico. Great savings!
Mexico Medical Evacuation and Travel Assistance included without having to add extra coverage.
Your RV can be repaired in the US or Canada.
Medical Evacuation, Plane Tickets Home, and Roadside Assistance automatically included without having to add extra coverage. Read More - ACE Platinum Assistance
Vandalism & partial theft coverages included with our Platinum policies.
Legal Assistance automatically included with every policy.
24/7 Claims help call center
5th Wheel RV trailers are one of the favorite bring-along accommodations for the Mexico adventurer. 5th wheels provide the spacious accommodation size of an RV, but you can also detach your pickup truck from the trailer in order to go off exploring without the cumbersome trailer attached.
Adventure Mexican Insurance insures thousands of 5th wheels every year in Mexico, and we have many insurance options for you to choose from.
Unlike some Mexico insurance brokers, our Mexican insurance policies will cover your 5th wheel while it is detached from the primary vehicle.
When purchasing Mexican insurance for your 5th wheel, you must first check to make sure that your Mexican insurance will continue to cover your trailer if you detach your pickup truck from the 5th wheel. Adventure Mexican Insurance understands that many people do park their 5th wheels at their camping destination, then go exploring with their pickup truck. All Mexico insurance policies sold through Adventure Mexican Insurance will continue to cover the 5th wheel even while the primary tow vehicle is no longer attached to the 5th wheel.
NOTE: The only exception to this situation, is that the 5th wheel can not be abandoned by itself for long periods of time. The primary vehicle is not allowed to leave the country of Mexico while leaving the 5th wheel parked in Mexico to act as a permanent residence like a mobile home. If you plan to leave your 5th wheel by itself in Mexico for more than a few days, please contact our office so we can discuss the exact insurance terms for your situation.
How your 5th wheel is insured with Adventure Mexican Insurance
5th wheels are considered as towed units on the Mexican insurance policy for the primary tow vehicle.
Example: You will need to purchase a Mexico insurance policy for your pickup truck, and you will list the 5th wheel as a towed unit on the pickup truck's Mexican insurance policy.
Adventure can insure 5th wheels up to $100,000 in value, but not all of our Mexican carriers allow for this limit. We recommend calling our office directly if you wish to insure any towed units valued over $50,000. We will be able to issue the insurance policy for you in a matter of minutes over the phone, and it is often advantageous for our customers to speak with us when insuring high value items.
We also offer many Mexican insurance policies that will pay the current US labor rate for repairs made in the US or Canada. This is extremely important! Mexico typically does not have the facilities to repair 5th wheels and other RV type vehicles. So most Mexican insurance claims repairs end up being made in the US or Canada.
BEWARE: Some Mexican insurance companies will only pay a very low hourly labor rate for repairs made in the US or Canada. Because the common hourly labor rate in the US for RV repairs tends to be around $100 per hour, you could find yourself paying a lot out of pocket. Adventure offers a number of Mexican insurance policies that will pay the current US labor rates, so you will not end up paying anything out of pocket for the difference in labor rates. Our instant quote system displays the US / Canada labor rates for each of the Mexican insurance policies we provide.
Adventure Mexican Insurance also provides Mexico insurance for cabover campers and slide-in campers.