An Informed Hot-Spring Encounter with "The Cowboy" at Playa Santispac
Overlander App proves valuable in unexpected ways
By Maria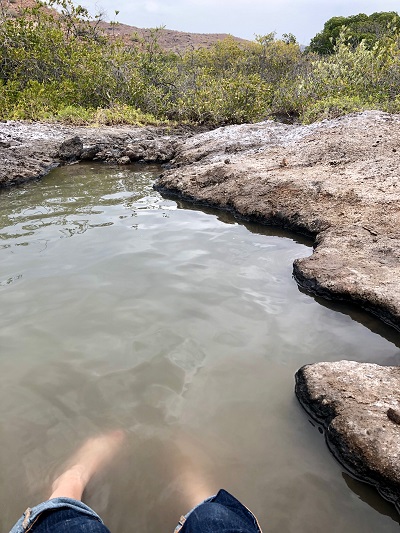 We inquire at one of the Playa Santispac's two restaurants about some hot springs we read about on iOverlander. "Aguas terminales" is the correct term in Spanish. Playa Santispac, located on the northern reaches of Bahia Concepcion, is the bay's largest beach, though there are several amazing beaches and mangroves in the area. It's popular among RVers and vanlifers on iOverlander, but the real reason we want to stop here is to find its hot spring.
As we drive toward the hot springs trail—located on a more secluded cove to the south end of Santispac—a man in a red truck driving out the way we are going in nods through the windshield at us, then turns his truck around and follows us. "Oh, great," I say to Molly.
We'd read in the reviews of this beach on iOverlander about an unsavory character dubbed "The Cowboy" who hangs out here, and whose not-always-welcome encounters with women are well-documented on the app. We park and get out, and so does a tall man wearing a cowboy hat and boots.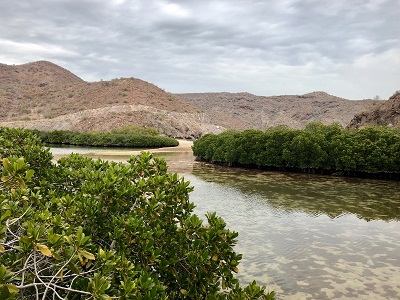 He strides toward us saying "no bandito!" until his face is within a few inches of ours, and offers to take us riding on some horses, much like the man in the reviews. It is my first realization that the iOverlander app can be useful for more than taco reviews and the price and cleanliness of campsites.
Not today, dude. A series of firm No's followed by a "We do not wish to speak to you any more" sends him on his way, and we are free to find the hot springs in peace. We take the long way, through a mangrove that requires jumping from rock to rock.
The hot springs here are indeed hot, but they were a bit muddy when we visit (post-rain), and they're also in full view of the highway, so bathing suits are recommended.