Authentic Italian Dinner in Todos Santos
Dinner alone, in the rain on my first night in Todos Santos
By Maria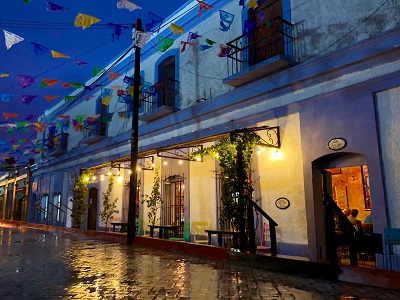 When I pass by the steamed-up windows of Tres Galline one rainy night in Todos Santos, I am overcome with a desire for pasta with red sauce and a glass of red wine. I duck inside and it is warm and cozy, the perfect place to wait out the rain.
I've booked a tiny room for myself tonight in Todos Santos, since there is an all-female line up at the bar La Morena later tonight, part of the now-annual Tropic of Cancer music festival.
I share the dining room with a couple large happy families, a Mexican woman and American expat on a date (they're in a hurry to catch the bus back to La Paz), and one other solo diner, which requires a nod of solidarity.
I order pasta with "salsa roja," an arugula salad, and a glass of red wine from the Valle de Guadalupe. The wine comes with a steaming bowl of bread baked in-house: warm slabs of focaccia with sea salt. I'm starving, and this is the best bread I've had outside New York City. I now know that the meal ahead is going to be very good.
The salad is a generously steep pile of fresh arugula—my favorite green on the planet—and all of the cells in my body sing. The arugula is flecked with lemon zest and shaved Parmesan, a light oil vinaigrette, and a healthy dose of fresh-ground black pepper.
The pasta dish comes: house-made penne tossed with a creamy red sauce and tuna. It's not exactly the red sauce I had had in mind, but it's delicious and rich, al dente, and full of flavor. It's also piping hot, which I appreciate, and it warms me for the walk in the rain to find La Morena.
This little gem of a restaurant was a thrill to discover, as authentic Italian food was not something I pictured being able to find in Baja. My memory of this meal is worth the splurge.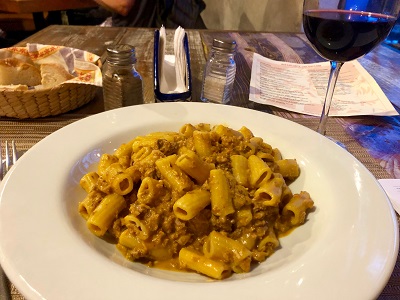 Ensalada Arugola: $130 pesos
Maccheroni $260 pesos
Copa Vino $120 pesos
Total: $510 pesos/$26 U.S.