Baja Packing List
The things we did not regret bringing
By Maria
It was on a three-week trek across the U.S. in the fall of 2018 that I honed the essential road tripper's packing list. This is the Mexico version, geared to the frugal roadtripper with a passport.
The Essentials:
Multi-Gallon Water Jug and Stainless Steel Water Bottles
There are purified water stations throughout Baja (at least one in every town), and we refilled our three-gallon jug every couple of days for a few pesos. Mexico doesn't pretend to have a recycling infrastructure, so forgetting your reusables means leaving a trail of plastic in a really beautiful place.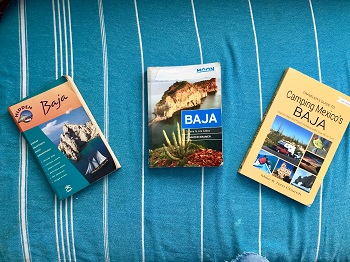 Guidebook of Baja
We brought ours to dinner to get background on the oasis towns, cities and vast empty desert regions we would be passing through in the next day or two. Our Moon guidebook Baja: Tijuana to Los Cabos is now well-worn and dogeared, and stained by margaritas and mole. Camping Mexico's Baja by Mike and Terri Church, geared toward the budget traveler, offers tips to campgrounds and roads. A more vintage ('90s) guidebook called Hidden Baja found on a dusty hostel shelf also rendered some gems you can't find online.
An Actual Map
We brought both the Northern Baja and Southern Baja maps from Nat Geo and laid them out often to get our bearings in detail. GPS doesn't show the mountain ranges, river names or really any land details. Also, you might as well draw a map on a napkin with a crayon if the only map you have is the one in your guidebook.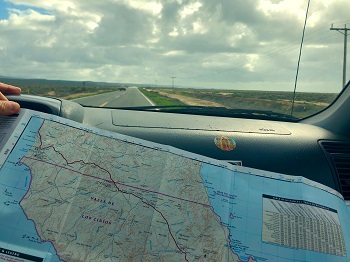 Portable Battery Charger
$90 for 80 watts; we charged our laptops, phones, and other batteries while off the grid. More adept van lifers have already figured out how to charge their appliances off their car using a power inverter. We blew out of town before we could wrap our heads around that project. It also costs a bit more.
Electric Tea Kettle
We used it almost every morning!
Black Tea and/or Coffee, Melitta and Filters
It was very difficult to find black tea in Baja, even at Walmart. You will find lots of green tea and regional herbal teas.
Cooler, Cutting Board, Cutlery and Dish Towels
We did not regret bringing a cooler for one second. Vegetables are not central in most Baja meals, so it's nice to stock up when the opportunity arises. A bag of ice in Baja goes for about $1.50. You can save a lot of money cooking for yourself.
Camping Gear
Including a headlamp (invaluable) and Molly's two-person tent dubbed The Kiwi.
Reusable Bags and Containers
Single-use plastic bags and bottles are ubiquitous in Mexico, and using them means contributing to their accumulation in the land and sea—a Karma best to avoid. You'll use these daily; visiting markets, buying oranges on the roadside, dirty laundry, and miscellaneous fun.
Binoculars
10x50 binoculars enhanced Baja's incredible stars, whale spouts in the sea, and mountains and volcanoes in the distance that would have taken three days to hike to.
Jumper Cables and Tire Pressure Gauge
Your tires will take a beating.
Reef-Friendly Sunscreen
Eco-friendly brand that does not contain oxybenzone and octinoxate, which kills coral reefs. Baja is home to some of the world's last living coral reefs, thought they are unfortunately following the world trend of rapid decline. We brought BurnOut brand Waterman's Choice, a clear gel with sea kelp, aloe and vitamin E.
Phone App: iOverlander
We used this app to track our location while outside of cell range. It functions as a map dotted with user-sourced and user-reviewed places to sleep (including "wild camping" sites like parking lots behind family-owned restaurants, established campgrounds, and hotels). Places to refill water, mechanics, some restaurants, and military checkpoints are also marked. Tip: before you lose service, copy GPS coordinates at the bottom of an iOverlander entry and paste them into your GPS app.
App: Converter+
Quickly calculates pesos to dollars. Works regardless of cell service.
App: Podcasts and Music
Silence on the road has its charms, but there are some long days of driving through the desert. Download some podcast episodes and albums before you lose service. Nicola Cruz happened to go especially well with the desert landscape.
Wet Ones, Tissue/Toilet Paper, Pepper Spray
Public restrooms aren't hard to find on the freeways (most Pemex gas stations or the larger OXXO stores have them), but toilet paper is rarely present! We forgot the pepper spray existed, encountering no situation where it was needed.
Mexican Auto Insurance with Roadside Assistance Coverage
Most insurance packages available through Adventure Mexican Insurance come with roadside assistance, which was wonderful peace of mind.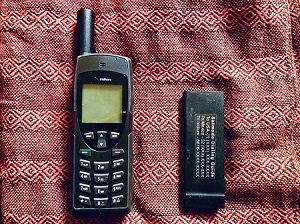 Satellite Phone
What good is roadside assistance if you don't have cellphone service? We rented an Iridium satellite phone from Satmodo in San Diego for about $300 that came with 60 free minutes.