Baja's Hidden Hot Springs
Sacred sites in Baja's Sierra de la Laguna mountains
By Maria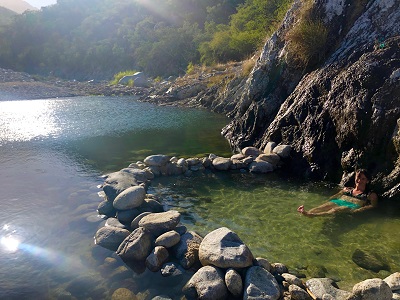 The Santa Rita Hot Springs are "Cerrado Miercoles" (Closed on Wednesday). We learn this at the entrance, after many beautiful miles of dirt road. Only then does it also dawn on us that today is a Wednesday.
We have taken one of the dirt roads that snake out of the foothills of the Sierra de la Laguna—a small, high mountain range incredibly important to Baja for many reasons, including that it is high enough to get rain, on a peninsula that is otherwise almost completely desert.
After turning back, a sign in the underbrush points toward "El Chorro," another hot spring we have read about, and we take the fork. A handful of others will have done the same.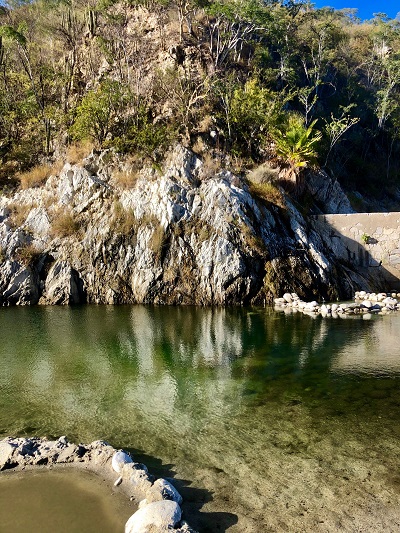 Another long dirt road through the trees brings us to a gate where a skinny elderly señor tells us it is 25 pesos ($1.30) for day use, and we can settle up in the morning if we decide to camp (an additional 25 pesos each.) The señor is selling honey that his brother made. I think he is aware that he doesn't have to point them out, because the sunlight is catching them just so. I buy a bottle for 70 pesos, and the man gifts us a large bag of dried oregano with our change. I am telling you, El Chorro is a very kind place.
We find campers settled in along the dry river bank, and they tell us that the springs are beyond the dam. They are indeed hot. A Canadian woman tells us that the water trickling down the rock behind the large pool is 104 degrees. In this pool, tiny fish will nibble your toes and legs, which is a distinct sensation, to say the least. "They charge you $25 for this in Cabo!"
Ah, the wonders of the water: we find that we can dig into the sand and create our own private hot-water pools. We stay in them past nightfall, because it is very hard to get out once the stars come out. Every time a shooting star streaked across the sky, a chorus of frogs that's hanging out in the cooler water grows frenzied and sings out louder.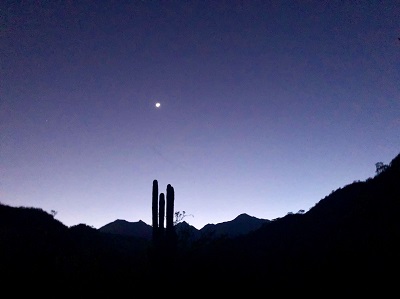 Tips: El Choro seemed to attract nature-respecting guests, and it appears to be well-loved and well-maintained by its gatekeepers. We found a place in the dry river bed above to pitch our tent, and got a very peaceful night of sleep. Directions to springs are on the iOverlander app. No bathrooms/showers or running water, so definitely come prepared.