Crossing the U.S.-Mexico Border at Otay Mesa
It was almost too easy
By Maria
Photos: Molly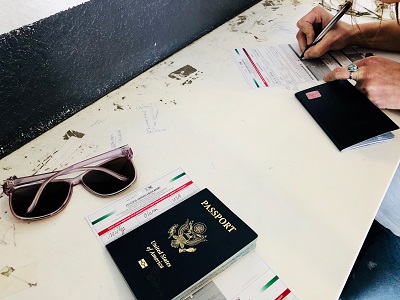 My friend Molly and I crossed the U.S.-Mexico border at Otay Mesa, en route to Mexico's Valle de Guadalupe and beyond. (By beyond, we mean the 1,600 or so miles to the tip of this beautiful peninsula, with some side trips thrown in along the way.)
Many people told us to cross early in the morning, but we ended up crossing into Mexico around 2 p.m. on a Saturday. It's smooth sailing. We experienced zero lines, friendly smiles and a general ease on the to-Mexico side.
We were surprised that there was no vehicle inspection of any kind, and only afterward found a forgotten San-Diego-hostel apple rolling around the back seat. (Produce is a no, along with firearms and illegal drugs of any kind, botanical or otherwise, in any quantity.)
Anyone who plans to drive farther than Ensenada is said to need a tourist visa, so we parked at the border crossing and visited the immigration offices to obtain them. They cost us each $27.86, and are good for six months. (We later find that we'll reach the tip of Baja two weeks later without one person requesting to see them).
Being addressed as "bonitas" by the first uniformed security guard we encountered was our initial clue that we were entering a culture of different norms, and honestly, no offense was taken.
The irony of this breeze-through into Mexico is not lost on us, as we crossed on the eighth day of a government shutdown over the U.S. president's demands for a $5 billion wall at the border, and his threats to close the border altogether if the wall does not materialize.
Across the highway divide, the northbound lanes were at a slow crawl, punctuated by a thousand car radios—something to look forward to in a few weeks upon return. But for now, it's southbound freedom.
Guide Books Told Us: There are three crossings in this region of California, San Ysidro being the busiest one, with more than 50 million crossing each year. Tecate is said to be the most relaxed and least busy, but it's hard to imagine anything more tranquil than our Saturday afternoon experience at Otay.