Dinner and Surrealism at Santo Chilote
Where magic food is served in volcanic rock
By Maria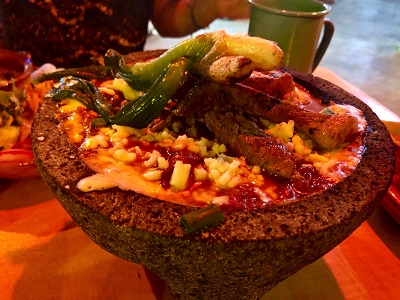 My local friends Aida and Natalia tell me they know where the best fish tacos in Todos Santos are. And sure enough, we will find them—just not tonight. Santo Chilote is one of the places, and when we arrive we find it closed.
We follow the smell of hot food around the building and into a dining room that is warm and festive, as Baja knows how to do. It turns out there is another half of Santo Chilote, and though fish tacos are not happening this late in the evening, they are most certainly open. It's so colorful that I'm still noticing new shades when we leave.
I tell Aida and Natalia to order for me and I'm so glad I leave it up to them. First: a bean cazuela—a little bowl of hot, secret-recipe beans nestled in warm tortilla chips. It's not ready to eat, they say. You must first visit the island counter lined with a dozen or so earthenware bowls, lift each lid, and marvel: several types of salsas, mango and habanero, prepared cabbage, grilled chiles. I recommend piling everything on. The beans—and all of these sides—are delicious.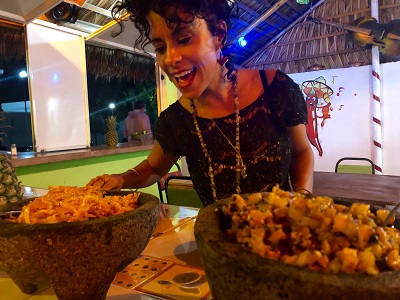 "Salvador Dali said he could never live in Mexico, because it would be more surreal than his paintings, and he would no longer have to paint," says Aida, when I tell her I feel like I'm in a dream or a Salvador Dali painting.
I am surprised when more food comes, since I thought we already had our dinner.
Molcajetes are the specialty here, and we now have one in the middle of our table. Served in its namesake bowl of volcanic rock, it is a rich tomato-based stew, with chiles and carne asada (or grilled meat of your choice), topped with a bubbling layer of melted queso galor, and green onions. The way to eat it is to slather it on tortillas, along with the flavors and inflections coming from the salsa bar.
"We are like wolves," says Aida. Yes. Go here, and go hungry. The molcajete is 240 pesos, or about 11 bucks, and we leave so full.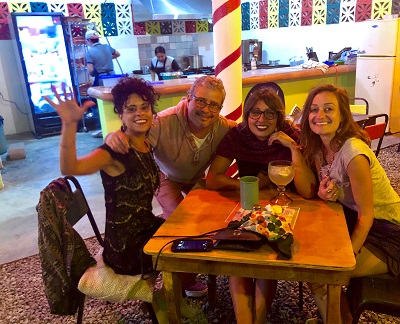 Tip: Ask your local friends what the name means. It might be an innuendo.