Wifi and Familiarity at El Pescadero's Baja Beans
Good coffee and pleasant gathering place for expats and travelers
By Maria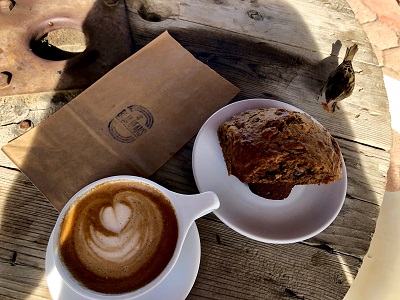 I find the patio of Baja Beans in the late morning, and wonder if it is an arboretum. The most pleasant canopy of mango trees grows in this lot, extending its shade. The trees are full of birds, singing about the sunshine or the meaning of life.
Water is precious in Baja, and I've been taking plastic-jug showers. It is amazing how clean you can get with less water. I will take the lesson back with me to California; I know I can do better in that department.
What a pleasant patio, and what kind people, and what a pleasure the sun is, drying wet hair.
Bakery items are enticing here, and there is a wider breakfast menu, too. But I'd like whatever just came out of the oven and smells like the archetypal grandma's house: A giant muffin, of the type "Morning Glory." Did I wake up in heaven?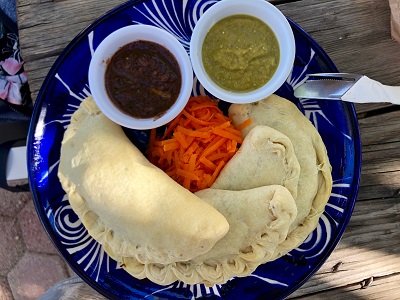 A tiny bird invites itself to my table, turning it into a miniature stage. The Wifi works, and there are lots of places to sit outside. The muffin is incredible, the espresso is very good, and the barista skills are pro. What else do you need to know? There are outdoor electrical outlets under the tables, making it possible to hang out and work through two meals. I do.
"This place used to be just a tiny little shack of a cafe," says an American or a Canadian who was there then. The bakery itself is still small, with a counter of tiles that is its own work of art.
Later in the afternoon I find Baja Beans' impressive list of vegan dishes on the lunch menu, and order spinach empanadas. They are delicious and doughy, and the portion is huge. I share my leftovers later with my skinny Canadian friend who loves them.
When I left this morning, the kitchen conversation at the Espacio Amor camp had been the imminent arrival of the water truck, and what to do until it arrived. Our tank was nearly empty, hence the recent gallon-jug showers. When I return around sunset, there is a lively discussion about dish-washing solutions in the kitchen that is too good to pass by. There is lots of laughter in this kitchen, helped along by the international dynamics.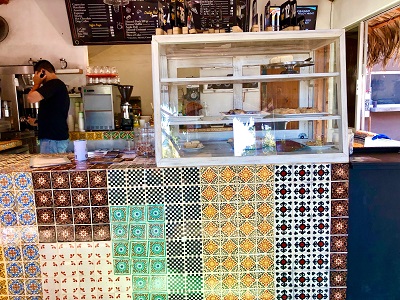 Plant-milk Latte: 80 pesos, $4.19
Giant Muffin: 70 pesos, $3.67
Giant Empanada plate: 120 pesos, $6.29 U.S.