Exploring La Paz: A Trip to the Farmers Market
We fall in love with the colorful city and decide to stay another night
By Maria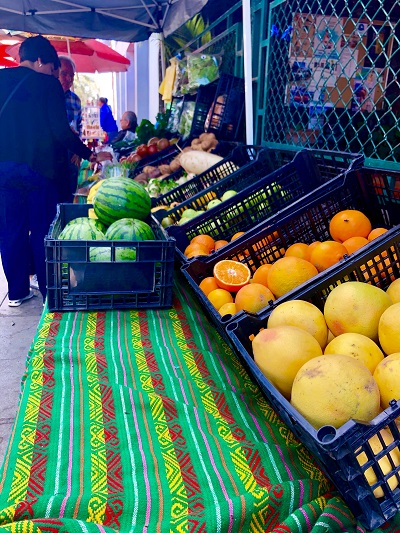 Molly and I walk about 16 blocks from our hotel to La Paz's old town plaza, where there is a Farmers Market every Tuesday and Saturday. Our plan is to stock up on some food supplies for our cooler to take with us to the Santa Rita hot springs later that afternoon.
We will ultimately fill our bag with fresh produce and treats—watermelon radishes, and bright yellow starfruit, homemade rosemary artisan crackers and hummus, snow peas, and smoked fish, all for less than $15, but we take our sweet time, because there is so much art here, too.
We stop and talk to many vendors: A woman who sews beautiful dresses; a couple who sells macrame jewelry they learned to make in South America, with jade, rhodonite, larimar and other gems of all sizes and colors set into the woven fibers. The bracelets endure sun, salt and sand, they tell us—and this is a deciding factor. I buy Molly and I each a bracelet with jade stones from Antigua, Guatemala, for around $20 each.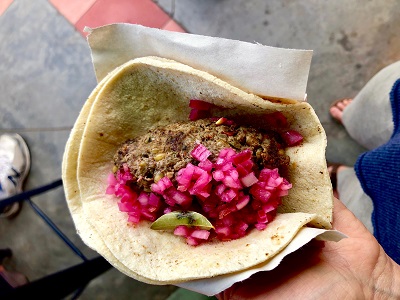 Another couple at the market, this one older American expats, is selling home-baked almond cakes and breads. "You should definitely move here," says the man, as he hands me my change for a slice of almond cake we'll devour later at the beach. The couple has lived in La Paz for 13 years now, and couldn't be more pleased with their new life.
A woman offers samples of her homemade "torito jarocho," a peanut and coconut-derived liqueur from Vera Cruz. After tasting her homemade concoction we buy a small bottle. It's creamy and definitely sweet, sort of like a Kahlua or Angelico if it were made with peanut butter. This woman also sells kibi—an Arab cake made of bulgar, minced onions and finely ground beef—with a Yucatecan flair: it's served in a tortilla with pickled red onions.
On the walk back to our hotel, the city opens in a warm embrace—tropical flowers bloom against walls painted in so many colors that we are not used to seeing back home, and it is enough to delight the artist in each of us. With the sun shining our skin for the first time in several days, we realize that we could be on the beach in 26 minutes—with a cooler full of Farmers Market snacks. The decision is hard to refuse: We'll stay one more night and leave for Santa Rita hot springs in the morning. A quick turnaround at our hotel, and we are headed for Playa Balandra.