Exploring Playa Balandra
Hiking, kayaking and mushroom (rock) hunting
By Molly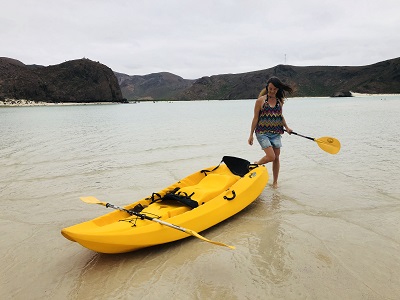 We loved La Paz from the moment we saw its beautiful malecon, where people walked, ran, biked and skated along the water. But it was after exploring Playa Balandra, a short drive north, that we decided we could linger there for days and be blissfully happy. Driving from La Paz to Balandra reminded me of driving north of San Francisco for the first time and being caught off guard by the sudden grandeur of the rolling Marin headlands.
When we arrived at Playa Balandra, it was overcast—hardly the sunbathing beach day that we had envisioned while traveling through chilly northern Baja. But we found it wildly gorgeous. Hand-painted palapas lined a white sand beach, and mountains dotted with cacti and flowers hugged clear turquoise water.
We wanted to get a glimpse from high ground of the open land that surrounded us, so we followed a steep dirt path up a rocky hill. At the top and to our left, we could see the beach far below; people, dwarfed by the landscape and looking like figurines, were swimming and kayaking. What looked like long, wavy mounds of sugar that had been dumped from above were sandbars just barely covered by the shallow water. To our right, a mountain that resembled a giant eel curled around another white sand beach.
A large sign informed us that Balandra was a Natural Protected Area, created by decree in 2012 thanks to thousands of La Paz citizens recognizing it as a natural and cultural icon of Baja California Sur. Reminding visitors that the icon "must be preserved for the present and future generations", the sign made it clear that the only permitted activities were those related to ecosystem preservation, research and environmental education. Another sign featured a close-up photo of the Hongo de Balandra (Mushroom of Balandra), a mushroom-shaped rock formed by wind and wave erosion. Thinking that it was going to be massive based on the photo (and on what we had read about people flocking there to see it), we laughed when we finally spotted the actual Hongo de Balandra. From where we were, it looked like a tiny, crooked nail that had been hammered into the rock.
On our way back down toward the beach, we noticed lush mangroves that provide shelter and feeding areas for species like shrimp and snappers, and nesting sites for birds like herons and terns. A short stone wall separating the beach from the parking lot displayed a man's wood carvings of whales, dolphins, turtles and palm trees. Nearby, a big sign read, "Be aware of the following species". Next to small illustrations of various creatures, advice was provided on how to handle run-ins with each of them: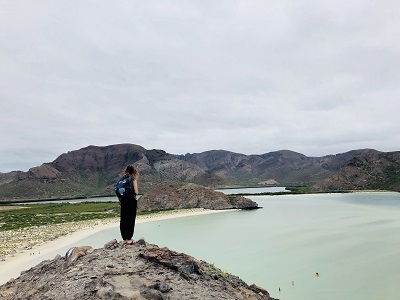 Jellyfish: Apply vinegar, meat blender or urine. Seek medical attention if the pain persists.
Ray: Apply hot water. Seek medical attention.
Swimming crab: Wash the affected area. Seek medical attention if the pain persists.
Snakes and Scorpions: Seek immediate medical attention.
The sign made us worry a little and laugh a lot. We decided to take our chances with the critters that could be lurking in the water, and refer to the sign in a worst-case scenario.
A young man, set up close to the water's edge, was renting kayaks and stand-up paddleboards by the hour. We didn't really need a kayak to explore the calm bay—the water was only reaching the knees of the people who had ventured across. But we thought it would be fun to paddle to the little beach that we had spotted on the other side.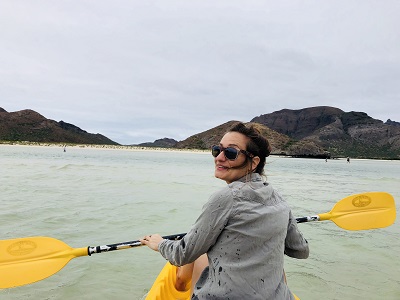 We glided out to the most pronounced sandbar, water and mountains all around us, and got out for a stretch and a look around. A father and his kids were exploring the rocky shore in front of us; we pulled up there next, and walked along the edge, looking for shells. From there, we headed to the infamous mushroom rock. Couples and families walked along the beach to reach it, and then posed for photos next to it. Arriving to the rock by kayak gave us a different perspective. It was bigger up close, of course, but it still made us laugh. Pulling our kayak up on the sand, we walked around it, too.
We headed back to return the kayak, and then found a spot on the beach. Maria read and I ventured off to where the sand ended and the big rocks began. When I got back from exploring, we decided that it was time for a margarita at Playa El Tecolote, a nearby beach.
After sunset, when the mountains were silhouetted against a deep blue sky, we drove out the beach road and talked about how much we loved Balandra. Later, we would decide to return here before heading south. As we drove back to La Paz, I thought about something that I had seen at the top of the hill on our hike earlier that day: Someone had arranged a bunch of rocks into the shape of a big heart.