First Night: Fine Dining in Valle de Guadalupe
Spaceship-esque Alximia Winery and Restaurant La Terrasse San Ramon
By Maria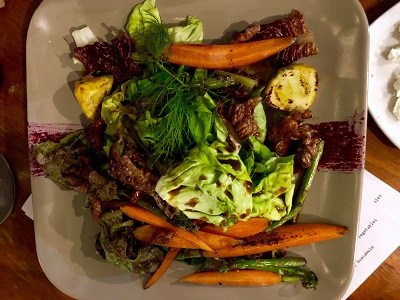 From a distance, Alximia Winery (meaning "chemist"), presents itself as the Sydney Opera House dropped in the middle of nowhere. Designed by Ensenada-based architect Jorge Salazar, its pitched arches are lit by a rotation of colored lights, both giving it a spaceship quality. Molly and I are caught totally by surprise.
All we'd known about this winery is that it's owned by a family of scientists that seeks to "transmute the Earth's four natural elements (Earth, Water, Air, Fire) into wine" while also taking care to preserve nature. The winemaker, Alvaro Alvarez, was a former mathematician, and his father was an astronomer at the National Observatory in the San Pedro Martir.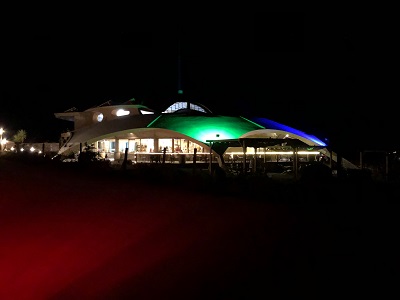 Though Alximia is spacious and airy, it's toasty warm inside—and busy with families sitting at tables around heat lamps at its Restaurant La Terrasse San Roman. We stand at the counter and try a few wines, each of them named after Earth's four elements, and decide to go in on a bottle of "Gaia" before settling in at a table inside. Through the glass windows we can see the vineyards stretching to the horizon, and an outdoor patio that looks like the place to be on warm nights.
A light dinner here turns up some gems, and my mood swells with happiness because I'm here, in Mexico, with a salt-of-the-Earth friend, and we have lots to talk about and even more to discover.
We share our Gaia along with a bowl of cream of mushroom soup (so good I still dream about it), a perfectly dressed salad of little gem lettuce with lightly roasted (still crispy) carrots, and three tacos, followed by a Mexican hot chocolate.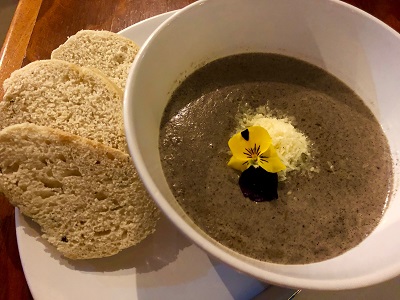 More substantial entrees on the menu included duck enchiladas with crispy sweet potato and seasonal mole ($12.72), grilled marrow with shrimp (the large family next to us shared a plate of this, $12.21), gratin clams with ranch cheese ($9.42), grilled rib eye ($22.90), ceviche Baja ($11.20), and a tempting dessert menu baked daily from local ingredients and seasonal fruits ($6.11 each).
Roadtripper's Tip: Download an app for quick conversion from Mexican pesos to dollars. Converter+ is excellent and works whether you're in cell range or not.
Good company aside, this is the best meal I've had in weeks, and the food side of things would have cost us three times what it did here ($22) had we been in the states. The service is also far superior to your average California service.
The waitresses add warmth to an already awesome experience. They tell us with wide eyes: "you must go to Mulegé!" and take the time to google the meaning of the town name—it's a Cochimí word meaning "soft mouth," referring to its geographical location at the mouth of a river draining into the Gulf of California.
Molly and I had been planning to cross the peninsula to the Gulf's San Felipe after leaving Valle de Guadalupe, hearing it's warmer on the Sea of Cortez side of the peninsula. But it takes us about 30 seconds to abandon that notion entirely for a quicker, more substantial drop in latitude. We decide we'll shoot south on the 1 toward Guerrero Negro on Baja's Pacific Coast, then cross to Mulegé, which sits above Bahia Concepción on the Sea of Cortez.
Serving lunch and dinner. You won't regret it. For more info visit alximia.com.
Wine: $24/Bottle
Dinner: $22
Tasting: Free if you buy a bottle