Space Pods Under the Milky Way
One very special #Glamping outpost in Mexico's Wine Country
By Maria
Photos: Molly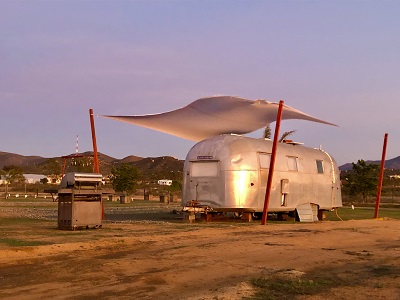 Around sundown we find the long, GPS-elusive dirt road to "Glamping Ruta de Arte y Vino," which is off the 3 in the southern reaches of the Valle de Guadalupe. This property is home to half a dozen vintage Airstreams from the '60s and '70s, set far enough apart for privacy and connected by stone pathways. The proprietor José gives us a choice of three, and we choose the smallest, because it's unseasonably cold and windy in the Valle right now, even for December, and these porous aluminum space pods are void of heaters.
Rustic showers (hot!) and flushing toilets are greatly appreciated, as are the fire pits at each campsite, a shared outdoor kitchen, a fleet of cruiser bikes rentable by the day, telescopes (the stars are incredible out here), Tuk-Tuk winery tours, and the security of a locked gate after 5 p.m.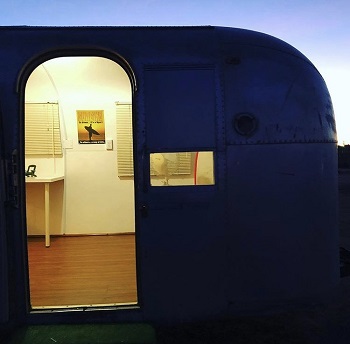 We pile all of our blankets and sleeping bags on top of the extra blankets José brings us and stuff towels in the gaps of the Airstream. It's cozy, even though the temperature has dropped to around 40 degrees, and our leftover Gaia wine helps cut the chill.
Two other families are staying here with us, listening to music and laughing late into the night, but we sleep well. At 2 a.m. I get up to look at the stars and see if anyone has any of the telescopes set up. Nobody does, but this is an ideal place for astronomy lovers to stay.
José and his helpers were working on the property constantly during our stay here, and they've got a good thing going. We were pleasantly surprised by the attention to detail, particularly in the bathroom area, where the showers are spacious and the bathrooms are decorated with vintage art. This is an awesome place to stay after a day of wine tasting, and we look forward to returning and seeing how the place has developed.
More info at: https://rutadearteyvino.wixsite.com/rutadearteyvino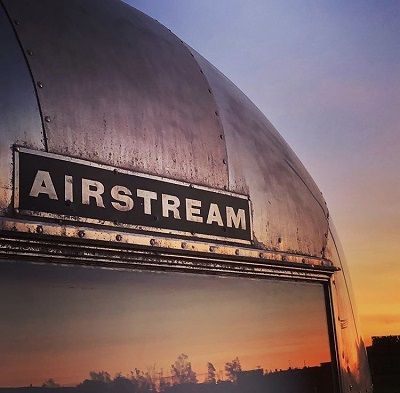 Airstream Rental: $43 per person via Airbnb
Bike Rentals: $5/day (We weren't charged for an hour's use)
Tent Camping: About $10/Inquire in person
Tuk-Tuk Tours: Inquire in person, they are flexible on number hours and number of wineries you want to visit.

Roadtripper's Tip: GPS will lead you astray. Enter Alximia Winery into your GPS and you'll see a sign for Glamping on the right (if you're heading south) just before you get to the winery. Follow the long dirt road until you see Airstreams gleaming in the distance. We found this spot on the app iOverlander—a crowd-sourced map of traveler-reviewed and updated places to camp, eat and refuel—and it's also on Airbnb.