Grilled Clams at Tecolote Beach
Fresh and foreign seafood on the beach at Palapa Azul
By Maria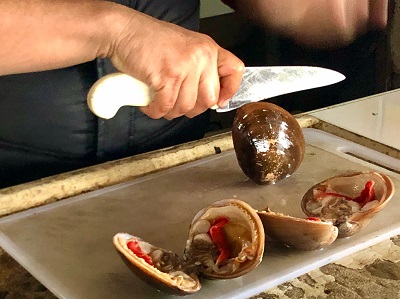 There is a tub of dark, freshly dug clams on the bar when we walk into Palapa Azul, a restaurant on Playa Tecolote where the tables look out toward Isla Espiritu Santo.
We order "almejas chocolates"—a traditional Baja de Sur dish of clams grilled in the shell with cheese, onion, serrano pepper, tomato, cilantro, butter, and sometimes ham. The waiter recommends we upgrade to "almejas especiales," and we do, having no idea what we're in store for.
Palapa Azul is known for its shrimp tacos and strong margaritas, which we sip as the sun drops toward the horizon. Like most margaritas in Baja, these are made with limes squeezed just moments after we order them.
The clams come wrapped in foil, and when they cool enough for us to unwrap them, we find a pungent surprise of mysterious proteins from the sea inside. Clam, yes, octopus tentacles, yes, scallops, yes, but there are also fibrous sheets of white, slimy triangles of unknown cartilage, and cheese, too. I squeeze a generous amount of lime juice on the writhing menagerie and dig in.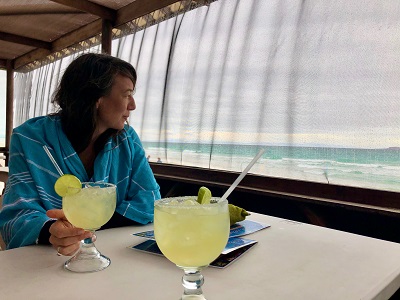 With its many different textures and unknowns, I'll file this dish away under the same category as the sip of mezcal I accepted from a bottle with a gray, lifeless snake coiled at its bottom. Between copious squeezes of lime, I tell the waiter it is "muy rico," not wanting to offend.
The shrimp tacos are indeed killer. The shrimp, which is breaded and fried, tastes like it must have been caught that day, and the breading is perfectly seasoned and crisp. A squeeze of lime, fresh cilantro-flecked salsa and a side of guacamole (made to order) are a fine accompaniment.
I would definitely come back here again—but forgo the almejas especiales unless I was with a group of adventurous seafood eaters. Live music happens on weekend evenings. We visited on a weeknight, and our waiter asked us for music requests before turning on the speakers.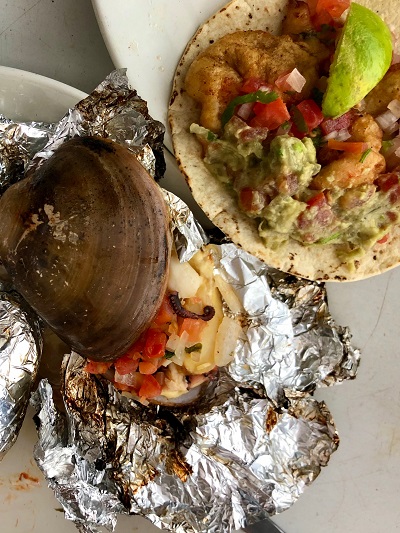 It is nice, once again, to sit and relax and not feel rushed to pay and leave. From our beachfront table, I watch Molly dance around near the surf. She trips on her skirt and falls face first in the sand, then gets up, and does a curtsy to the sea. Maybe you'd have to see it, but I laugh so hard tears stream down my cheeks.
Dinner at Palapa Azul: (Tourist prices, about $25.)