New Year's Eve in Guerrero Negro
A sleepy whale-watching town
By Molly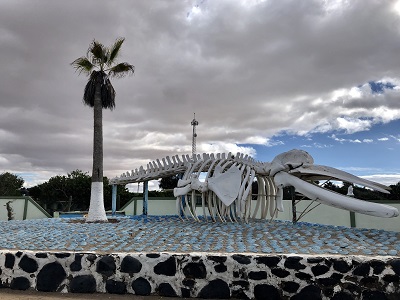 The stark white bones of a gigantic whale skeleton slice through the darkness as we pull into Guerrero Negro, the border town that separates northern Baja California from Baja California Sur. Up ahead, a sign reads, "Whalecome!", and we know that we've arrived at one of Baja's three popular jumping-off points for gray whale watching.
It's New Year's Eve, and with our clocks jumping forward an hour when we cross the state line between north and south, we are closer to the midnight countdown to 2019. We wonder if people would be celebrating, but a slow drive through a quiet downtown confirms that 2018 would end without a wild party. We don't mind. After a white-knuckle drive through the last part of the otherworldly Valle de los Cirios—complete with strong winds, rain, and a slam-on-the-brakes run-in with cows—a bottle of red wine from Valle de Guadalupe's Alximia winery, paired with pajamas and an early bedtime, sound delightful.
But first, we need to fill our stomachs. We pass Malarrimo (which includes a motel and an eco-tour company), and then end up circling back to it because it's the only place that looks like it has any kind of pulse. Established in 1974, the restaurant has a nautical theme—the walls are covered with framed pieces of rope tied in various kinds of knots, maps of Baja and paintings of seafaring-types—and a menu that includes mostly seafood. We order the salmon salad (which turns out to be tuna and mayonnaise on top of some greens and veggies), a chicken dish and wine for around $500 pesos, or $26.
There's a cluster of bicycles out front, and when we sit down, a couple next to us from the remote town of Cabo Pulmo on the Eastern Cape, asks if we are cyclists. I laugh to myself. I'm a cyclist in my daily life, but after observing the way that the cars and trucks race down Route 1, I had decided that to ride a bicycle on the shoulder-less main roads of Baja is to take a gamble with life. They are a far cry from San Francisco's wide green bike lanes.
We check in to the modern Hotel TerraSal, just up the road, because we like the fact that it has a gated parking lot with a guard. The guard leads us to a huge room and asks if we need help with our bags.
Right before midnight, we pour our wine into plastic cups, toast and wish each other "Happy New Year!" In the distance, we hear loud music playing, people singing along and laughing, and as one year slips away and another begins, fireworks. We run outside to watch, and bright colors explode into the night sky. To keep warm in a town known to be chilly and foggy, we kick our legs into the air and jump around, laughing. We don't know where the road will lead us tomorrow, but we do know that 2019 is going to be a great one.