Hotel Serenidad South of Mulegé
The Airstrip-adjacent Hotel that Hosted Parties with Astronauts
By Maria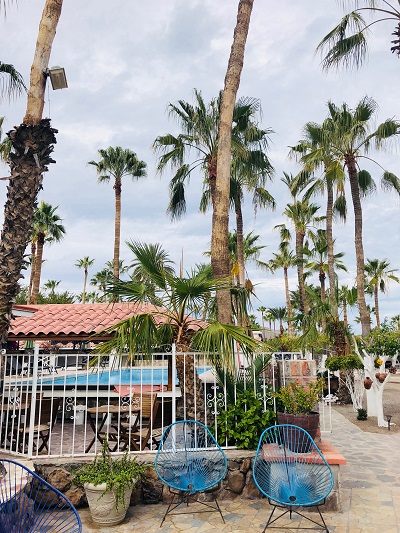 A couple miles south of Mulegé there is a sign for Hotel Serenidad, which we'd read about, so we decide to explore it.
The heyday of this place in the 1970s hits our nostrils as soon as we enter. Or maybe I am just imagining tequila spilled in the cracks between the dance-smoothed terracotta tiles. The place is large, and interesting in that it's a tad run down but obviously well-loved.
We have heard rumors of a pig roast and good margaritas here every Saturday afternoon. It's Saturday, so we ask the receptionist, who is watching TV, if it's happening. She laughs and says, "No, only ribs tonight." There is no one here on this Saturday in early January.
Shelves are lined with memorabilia from a more vibrant time. Autographed pictures of John Wayne and the astronaut Kathryn D Sullivan sit on a shelf. Celebrity guests, an airstrip, and the 1980s: this place must have been a nonstop party.
According to the book Hidden Baja, Hotel Serinidad shut down in 1996 when local activists seized it in connection with a land dispute. It opened back up after a year, and its 48 guest rooms are said to have fireplaces, while RV spots and casitas, occupied now by only an expat or two, radiate out from its center. Arched doorways fringe the common areas, and pretty courtyards surround an empty pool. A sign on the door advertises AA meetings. It's deserted, and under renovations, but somehow Hotel Serenidad seems to still resonate with laughter and clinking glasses.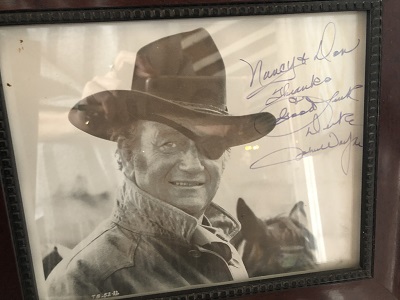 Rooms start around $85 a night, and casitas run into the triple digits—this is surely one of Baja's more expensive accommodations.