La Morante: Live Music and Art Bar in La Paz
A Woman-owned art bar with outdoor stage
By Maria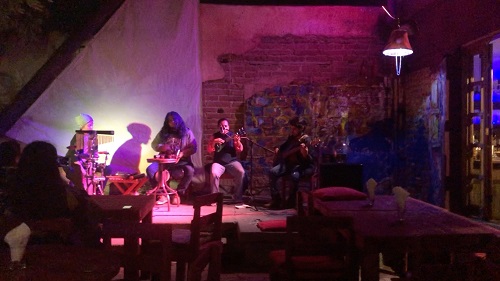 "Go to La Morante!" the woman at the front desk of our hotel tells us. "They have live music almost every night."
We set out on foot to find the art bar, owned by an Argentinian woman. The story goes that she became tired of life as a banker in Argentina, and relocated to La Paz to live a more bohemian life around art, music and food. Every few blocks, a dog charges its wrought-iron gate to bark at us, and this keeps us on our toes.
We find the bar and settle into a table in the brick-walled courtyard. It's full of artwork and funky decor, with a second-story balcony that looks down on the stage. The menu is full of wine from Argentina, and food of the same persuasion.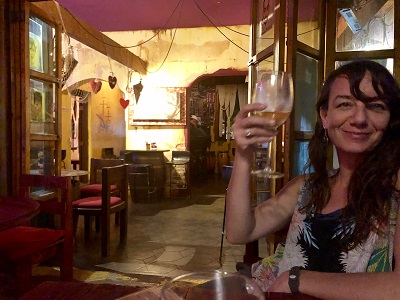 La Morante has live music on Wednesday through Saturday. It's a Tuesday, though, and we're stoked to see that a band is setting up anyway. We order a salad, flatbread pizza (half pesto with walnuts, half "La Morante" with basil, tomato and chorizo) and two glasses of cool white wine. Chimes and percussion materialize onstage and a band tunes up.
A stray cat comes to our table, and Molly entertains me as she swaddles the kitty, holding it up like a baby and cooing, as is her way. Molly is not scared of feline pathogens.
The intimate patio tables begin to fill, and I can see why this place is so popular: it's awesome to be under the open sky on a warm night, and the ambiance is romantic as heck.
The La Paz-based band, Sol di Coco, begins to play—a mix of Spanish songs and covers in English, including The Cranberries "In Your Head" and even a Radiohead tune. They are awesome—especially the percussion section, and we tip the band and chat with them after they're done playing.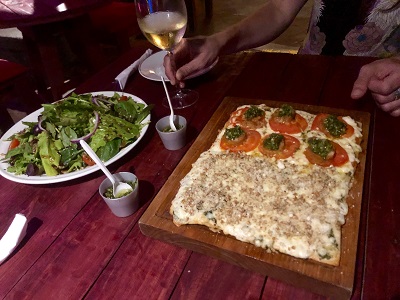 A sign on the back wall reads "Vivas y Libre, Nos Queremos," which translates more or less to "Alive and free, how we want to be." We sketch an illustrated love note to the bar on a napkin before we leave, because we find this place so special, and hope to return again.
Dinner, wine and live music at La Morante: $25