Loreto in the Rain
Kind strangers in a magical place
By Molly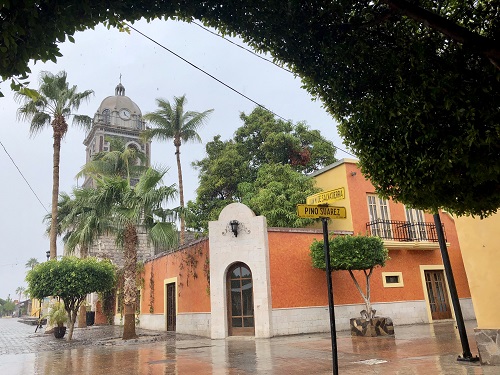 Maria and I woke up at San Martin Hotel Posada in Loreto to the sound of pouring rain. The night before, we had studied our maps and toyed with the idea of exploring some of the area's natural landmarks (like the Parque Maritimo Nacional Bahia de Loreto), rather than heading south, if the skies were clear. No such luck. So we planned to make it to La Paz—more than four hours away—by dark.
Maria darted out to the car to get what we needed to make coffee and tea, and we ate leftovers from dinner at Mezza Luna, La Casa de la Pasta. The restaurant, located close to Loreto's historic Plaza Juarez, offered pizza, pasta, salads, empanadas and vino. Black and white photos of people dancing and playing soccer hung on brightly painted walls, and NPR's Tiny Desk Concerts provided indie background music.
We had driven that afternoon from the turquoise Bahia de Conception, where we hiked, picnicked on the beach and found the hot springs we had been searching for. The road out took us past more picturesque coves and tall cacti, and as we got closer to Loreto, fiery orange light painted the mountain peaks to our left. A rainbow stretching across the sky was our gateway to Loreto—tucked between the Sea of Cortez and the Sierra de la Giganta.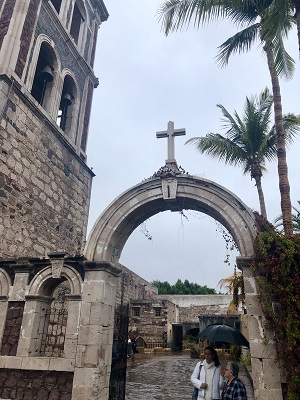 Since we hadn't seen much of the town in the dark, I wanted to explore before we hit the road. Wrapping a scarf around my head, I told Maria that I'd be back soon.
Our room opened to a long courtyard lined with rocking chairs, and through the arched doorway of the courtyard, I could see that the street was heavily flooded from the rain. I headed toward the plaza prepared to get soaking wet.
Plaza Juarez, still decorated for Christmas, was quiet. It was a Sunday, and many of its little restaurants, tequila bars, cafes and artisan shops were closed. But I wandered around and admired all of the bright colors, which were intensified by the rain. A portrait of Frida Khalo, and other paintings, hung on the side of a building. Hand-painted signs read things like, "Stop, Keep Calm and Get Margarita", "Our kitchen has been seasoned with love" and "You hook!!! We cook!!!"
Little shops displayed Mexican shawls and fabrics embroidered with plants and animals out front and in their windows, but the one that drew me inside was La Casa de la Abuela. I liked the way the colorful hand-painted ceramic plates, suns and geckos were arranged on a gritty exterior wall full of peeling paint.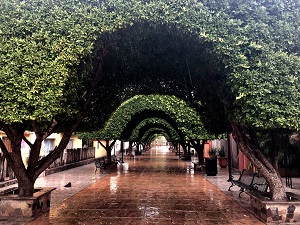 Inside housed creations by Mexican artists that included paintings on tree bark, woven bracelets and hand-painted animal skulls. The woman running the shop, who I spoke to in broken Spanish, said that she wasn't going to open that day, but she thought that the rain might bring people in.
I picked out a handful of woven bracelets for loved ones back home, and planned to surprise Maria with one, too. I managed to tell the woman where I was from, and that I was bringing the bracelets back to "mi familia." She smiled, and a man who was there helping her smiled, too.
As I was leaving, I wrapped my wet scarf around my head, preparing to brave the rain once again. The man gestured for me to wait. He bent down, selected a big straw hat from a pile and handed it to me.
"Really?" I asked him. "For me?"
He nodded, pointing out to the rainy sky.
"Gracias," I said. "Muchas gracias!"
Full of gratitude, I put the hat on and twirled toward the Mision Nuestra Senora de Loreto Concho—the first mission of the Californias. Turning around, I waved to the kind man.
Father Juan Maria de Salvatierra, founder of the mission, gave the first mass there in 1697. Known as the head and mother of all other missions of Alta and Baja California, the Mision Nuestra Senora de Loreto Concho, with its tall bell and clock tower, was awe-inspiring. I could hear singing coming from inside, so I followed it to the arched front doorway. The big wooden doors were ajar, and two life-sized angel sculptures leaned toward a room full of people.
"Alelu, Alelu, Alelu, Alelu ya," they sang. Their voices, accompanied by the pattering of the rain, kept me transfixed. Hallelujah for this moment, I thought, and hallelujah for this trip. On the way back to the hotel, I floated above the puddles.