Lunch at Restaurant Bar Bahia in Todos Santos
A Sunday afternoon at a locals' favorite seafood restaurant
By Maria

The Spanish word for a hangover is "crudo," which translates, literally, to "raw," and my friends, the Santa Cecilia fans, are at varying levels of "raw" from the concert last night. Aida and I hatch a plan to drive to Todos Santos, along with Natalia, to get Sunday lunch. We pull our van-dwelling friend Alejandra into the car with this on the way out of the driveway.
We sit at one of the tables outside the blue walls of Restaurant Bar Bahia. Aida knows most of the restaurant owners in Todos Santos, and banters with the owner here as we look over the menu. I order one grilled snapper taco, and leave the rest to Aida to decide. She orders a tostada of marin, and shrimp ceviche to share, and two huge micheladas (beer with tomato juice, chile and lime) to share as well.
This meal is incredible in many ways. The limey ceviche against the salty chips, the fresh cabbage against the salsa and hot grilled snapper, the warm tortillas, the cold beer.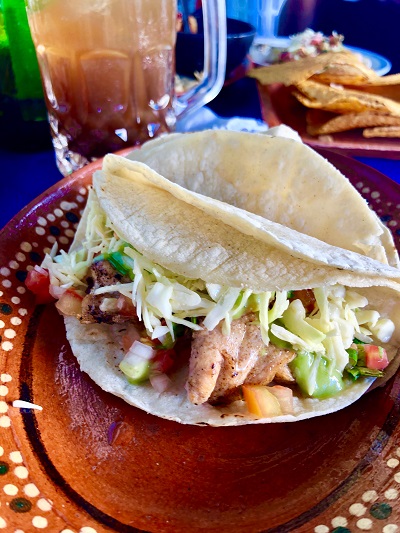 Aida tells stories of the look on Santa Cecilia's face when she met her after the show last night. Instead of asking her for a photo like everyone else, she offered her a sip of her mezcal, infused with cacao and cinnamon, from the jar in her purse and invited her back to Espacio Amor for a meal. The rumor is that she might drop in on Tuesday.
Aida hands me a bottle of Salsa Marisquera & Botanera La Negra—a sauce she says is important to any seafood meal. It's mildly spicy with a smokey chile flavor.
I feel very lucky to have met these friends, however briefly our time may be, and for this meal. I'm not sure I would have found this restaurant if I was traveling solo and staying in a hotel. And I definitely would not have enjoyed it to this degree.
We leave fully satisfied and high on good food and drink and life, paying 445 pesos, or about $23 for lunch for four of us.