Mulegé: Spying the Tres Vírgenes Volcanoes
Crossing the Peninsula to the Sea of Cortez
By Maria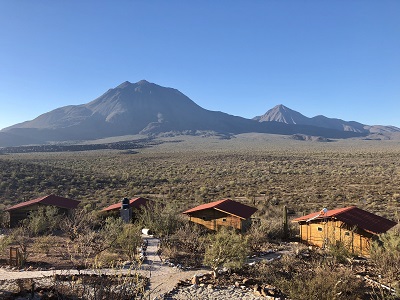 When we leave San Ignacio Lagoon, we spend an hour totally lost on sand roads snaking through a remote fishing community. "How did we even get here?" We'd driven to the lagoon in the dark three nights ago, and nothing looks familiar. Children playing in the road stop and stare. We smile and wave. Laundry whips on the line in backyards, and dogs lie lazily in the road.
After getting vague directions from friendly locals, who swept their arms in the direction of San Ignacio, we find the washboard road we remember, and finally, we're back on the 1 south, passing through the old lava flows of the Tres Vírgenes volcanoes about 20 miles east of San Ignacio.
In the middle of nowhere, we take a detour to an eco-camping outpost at the top of a hill. It doesn't look like anyone is staying here, and the only other vehicle is an abandoned truck with flat tires. But we really have to pee, and there's a lookout tower, so we get out.
The woman who runs the place is surprised to see us when we peek inside, but tells us "por supuesto" (of course) we can use the baño and look around. She also delivers the news that the hike from here to the volcanoes and cave paintings takes three full days.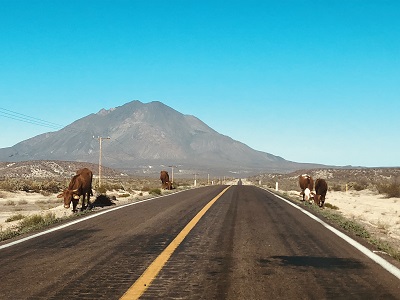 After a harrowing drop in altitude toward the coast, we arrive in Mulegé—thanking the waitresses back in Valle de Guadalupe who sent us here. Mulegé is a small and quaint date-palm oasis on the mouth of a river that empties into the sapphire blue Sea of Cortez. We quickly realize there are only a couple of streets to it, but we love the feel of this place.
We check in to a more modern hotel and then walk to a more historic hotel for dinner, Las Casitas. The dining room is an inviting enclave warmed by a fireplace at its center, and colorful paper streamers strung from the ceiling. Chicken and ribs are grilling on the barbecue in the courtyard. The walls and shelves are filled with artsy folk kitsch.
A framed sketch by a guest is entitled "mis zapatos, 1961": it shows a pair of worn out shoes sitting atop a waste basket. I realize that the little library in the dining room is stocked entirely of romance novels just as a stray tiger kitten brushes my leg.
Two young women whose accents are from Spain come in and speak with the chef, asking about a place to eat and sleep. They shift the weight of their heavy backpacks, a cardboard sign strapped to one reads, simply: SUR. (South.)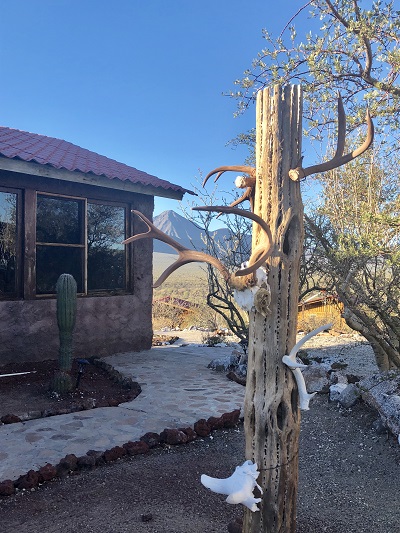 On our walk back to the hotel, a police truck with a male and female officer inside stops and the driver asks "Todo bien? Solo caminando?" (Everything OK, just walking?). "Todo perfecto, solo caminando," we answer.
We look for the backpack girls and their dog the next morning as we roll through town to continue south.
Hotel Mulugé: $37 (firm), good wifi, enclosed parking. Margaritas at Las Casitas: About $4, and giant.