Sunset Drive to San Ignacio Lagoon
Intense beauty south of Guerrero Negro through Desierto Vizcaíno
By Maria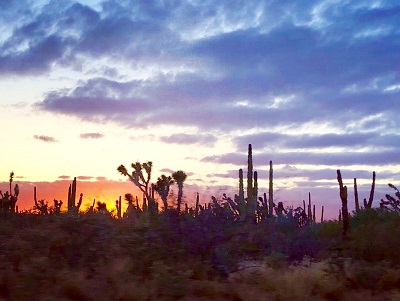 It's a scenic 3.5-hour drive from the salty oasis of Guerrero Negro south to San Ignacio Lagoon, where our destination is Antonio's EcoTours, a whale-watching outpost of several rustic cabanas and cheap camping.
We're charged by the sunshine and warm temperatures, the views, and an on-the-road lunch of crackers, cheese and freshly plucked oranges. We'd been told by a few people that as soon as you enter the Southern state of Baja, the weather changes and the scenery grows more beautiful, and we do notice a shift: We are finally warm for the first time on our trip.
The road from Guerrero Negro traverses the flat, dry terrain of the Vizcaíno Biosphere Reserve, the largest protected habitat area in Mexico, created under the UNESCO "Man and the Biosphere" program. More giant cardon cacti dot this landscape, as well as a multitude of vultures with impressive wingspans. According to our guidebook, vultures are a protected species in Baja because they keep the desert clean. Jagged, toothlike mountains are silhouetted in the distance toward for most of this drive.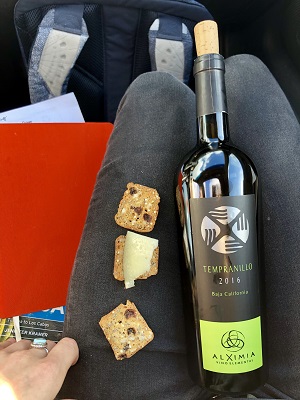 In the passenger seat I stack cheese on crackers for Molly and read out loud to her between croonings of the Feist CD we've now listened to about a dozen times. I also sip from our leftover bottle of Alximia wine because open container laws do not apply in Mexico, and I've never done this before.
I'm still perplexed by the name of the Tres Virgenes volcanoes, which are located between San Ignacio and the coast of the Sea of Cortez. "Virgin" is clearly symbolic mythology, as their last eruption was recorded in 1746.
Just off the 1 south, and after breezing through a military checkpoint that we'd been nervous about due to some iOverlander reviews, we turn right on Carretera Ramal a San Ignacio, passing through the picturesque little oasis town of San Ignacio, lush with palm trees and vegetation.