Shakas, El Pescadero's Texan-Owned Watering Hole
Dinner alone among local expats
By Maria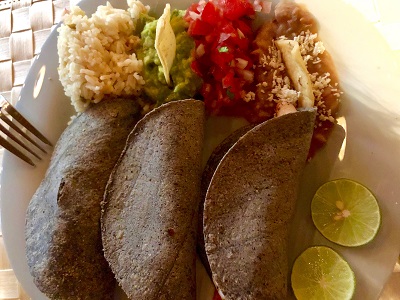 My cooler is not stocked yet, and I am too shy to show up at my campsite's shared kitchen empty handed so I do the most American thing I could possibly do. I disappear, alone, to a new restaurant just down the way called Shakas, opened recently by two guys from Texas.
The space is neat: a large palapa with two concentric bars wrapping around the big-screen TV, one bar sunken down into the floor. I take a stool where I can watch the local expats pick up their to-go tacos, often staying for a beer and conversation and a glance or two at the football game.
"I'd rather sleep outside in bear country than in a tent, because you're much less likely to get mauled," says a woman from California who has a house in Ventana. She and her husband have had encounters with bears in Tahoe and Montana. Farther down the bar, an American father and son are silently watching the game over plates of fried snapper.
I order a beer and grilled shrimp tacos, which are served in blue corn tortillas with rice and beans. They are not the best tacos I order in this area of Baja, but I didn't exactly expect the best tacos from a place where a Texas flag hangs in the dining room. The warm ambiance and friendly bar patrons make up for it.
I never do return to Shakas, as I'll be cooking (and saving pesos) at my camp for the next few weeks, but I hear a rumor that Shakas occasionally serves up very good Pad Thai, whenever the mood strikes them, and if you happen by on one of those nights, the word on the street is that you should definitely order it.
Tacos and beer at Shakas: $180 pesos/$9.54.