Stray Cats of Baja
Can we adopt them all?
By Maria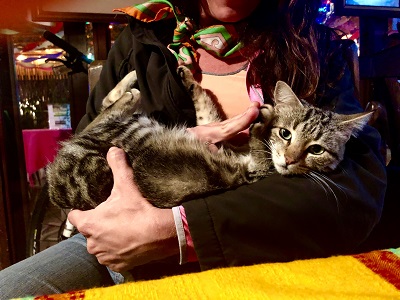 There are more than 1,000 miles between us, but I still think about him. Curious and affectionate, the young striped cat had wandered up to our table at Casitas, a historic hotel in Mulegé, as we were sipping margaritas from glasses that resembled salt-rimmed fish bowls.
"He's so cute," I said to Maria, scooping him up. "We should take him with us."
"Do you want to come drink milk?" Maria asked him, cradling him under her wool shawl. "Can you be quiet in the hotel?"
She kissed the top of his small head, and he looked up at her with squinted green eyes.
"Ohhh, he's purring," Maria said, swaying with him to the music that was playing. "He's making this really hard."
Little Tiger was one of many stray cats of Baja who was very hard to leave. Wherever we traveled, they seemed to be lurking, hungry for food and attention. Restaurant and bar doors left open meant easy access for them to come in and mingle, and they were fixtures on colorful patios.
The employees at these places were accustomed to them—they didn't shoo the strays away, or pay much attention to them. Our server at Casitas shook her head at Little Tiger and told us, "Take him." My lease in San Francisco makes it clear that pets aren't allowed, so I've learned which city bookstores have resident cats snoozing between the shelves. And Maria has a black cat named Azi, who watched us pack for the trip. From the road, we thought of him often and wondered how he was doing.
Gin, introduced to us by our server at La Paz's La Morante, was another favorite cat. We were sitting on the back patio when he walked in through the bar, passing hanging fishnets and a cabinet full of bottles and shells. We held him, talked to him and danced with him to the live music. And then, as we had done and would continue to do with the strays of Baja, placed him gently back on the ground, said goodbye and disappeared into the night.
We could have easily ended up with a car full of them by the time we reached the bottom of the peninsula. I pictured us as cat ladies, driving through the desert with cats perched on our shoulders, purring in our laps, stretching across the sunny dashboard and napping on crumpled maps.
There's something so comforting about having a loving cat at your feet in unfamiliar places. The places quickly begin to feel like home.
After I had returned to San Francisco, Maria sent me a message from La Miserable, a mezcal bar in La Paz that we had searched for together and that she had found on her trip back up.
Wishing you were here, you'd love it!, she wrote, while nursing a floral mezcal shot. And there is a cat!!!