Streets of Todos Santos
Beautiful art downtown, and a Mercado near Cafe La Esquina each week
By Maria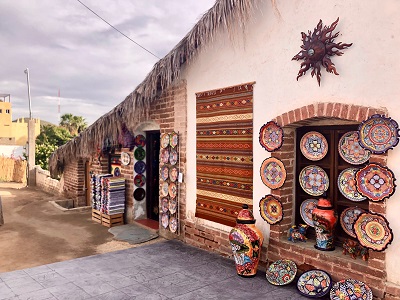 There is a certain male migration to Baja, from all points north of the border, and Todos Santos is a paradisiacal hub for trucks with surfboards—but it is also a hub for awesome food and so much art.
I spend the morning exploring the town's quiet, pretty streets of sun-baked adobe. Shops provide shade, and walking into the homemade soap shop at the top of the hill was like walking into a stimulating-relaxing bath of aromatic herbs. You may want to smell every soap and lotion here: It is a wonderful way to wake up.
As for art, Todos Santos would quicken the heart rate of any beauty-appreciating human. Hammocks and woven textiles swing in the breeze, clay cats and lizards and so many other wonders line shelves. There is no shortage of pottery, and there are trinkets of all shapes and sizes. A straw hat for Todos Santos' searing sun costs me $119 pesos, or about six bucks.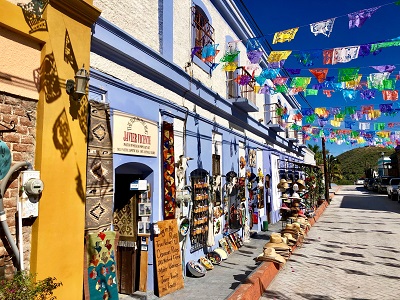 A quiet dirt road that is beautiful for walking leads through an oasis of palms to Cafe La Esquina. You will know you are there because the walls of Cafe La Esquina are painted with the sea turtle species that have laid their eggs on the beaches here for hundreds of years. Inside the walls is a large patio area open to the sky, with plenty of nooks for travelers to sit and stay a while. The coffee is good.
On Wednesdays there is a small but quality artisan market in the lot just behind Cafe La Esquina. Makers of handmade jewelry and hand-sewn and designed clothing, fans and other handcrafted goodies, plus baked goods and even kombucha teas.
I buy a pair of hand-woven baby shoes for a childhood friend back home who is expecting her "first and only" baby. The maker invites me to pick a color pattern, which is virtually impossible because I love them all. Her husband counts up the size they'd need to be by the next New England winter, and sure enough she has them ready for me the following week. I give her 500 pesos and so many thank yous.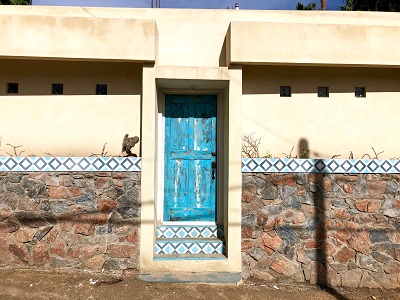 On the other side of Cafe Esquina is a superb produce stand with a large and varied selection of fruits, nuts, vegetables, beans, rice, and other staples, that is open seven days a week, and I end up coming here often to fill my cooler. It is the best place to buy fresh produce in the area, outside of the Saturday farmers market in El Pescadero.