Tacos Walos in Ciudad Constitución
Stopping to eat lunch with the locals in Ciudad Constitución
By Maria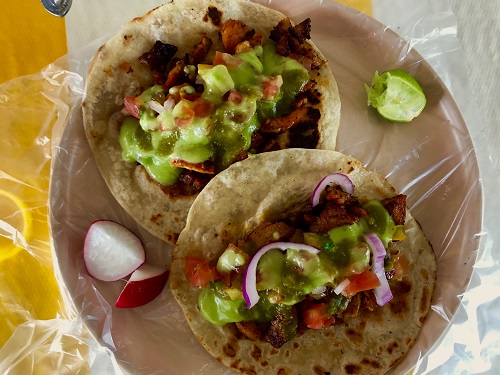 Molly and I are very hungry when we reach Ciudad Constitución, located in the middle of the peninsula, and a good stopping point on the long drive from Loreto to La Paz. Road shrines are a common sight in Baja, but this particular drive offers many. We coast slowly through the main drag of town, noting several potential lunch spots, before settling on Tacos Walos, which is bustling with locals at 2 p.m.
The cooks behind the grill nod to us as we walk in, and a waiter hurries to clear off a plastic table for us. He asks us immediately what we want, and I order two tacos al pastor, and Molly does the same. Even though the place is packed he returns within 30 seconds with a sizeable plate of salsas and toppings: cabbage, onions, chiles, lime. Then he's back again with a horchata and jamaica.
The tables are filled with locals, including an entire soccer team of teenage boys, whose antics and banter fill the open-sided dining room. I wait in a long line to use the bathroom and wash my hands, and try to understand what these teenagers are joking about so excitedly.
The tacos here come with heaping portions of meat. Not exactly the healthiest of roadside lunches, but it will fuel us all the way to La Paz, as we have several more hours of driving to go.
We spoon salsa and squeeze lime and dig in. So good. So messy. We eat every morsel, pay our check, and wash our hands a second time at the handwashing station in the hallway, then get back on the road for La Paz before nightfall.
Taco lunch at Tacos Walos: $8 for four giant tacos and two drinks