Treehouse Lodging in Southern Baja
Resetting circadian rhythms in a cactus forest near the beach
By Maria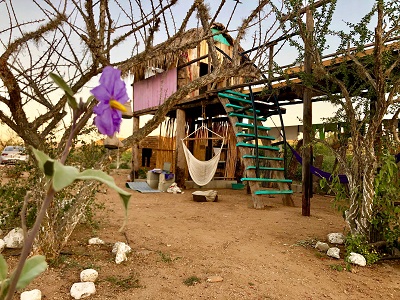 The small hand-painted sign reading "Espacio Amor" sits low in some bushes on a sand road near Playa Cerritos. I turn into the driveway and a red surfboard painted with a peace sign tells me I have arrived. I have rented, for the night, a treehouse on Airbnb, at a place called Espacio Amor.
The treehouses opened to Airbnbers for their first season in 2019, after three years of building the other structures in a fully-functioning, close-knit camping community in the desert.
I am greeted by a group of Mexican friends hailing from Oaxaca, Mexico City, San José del Cabo, La Paz, and Monterrey. And though I arrived in the hottest part of the afternoon, there is a full-on work party happening. Fallen cactuses are being turned into fire fuel and building materials, a compost system is being conceptualized, and, fueled by electronic and Spanish music, 30-foot tipi poles are being lashed together over a carefully leveled dirt floor.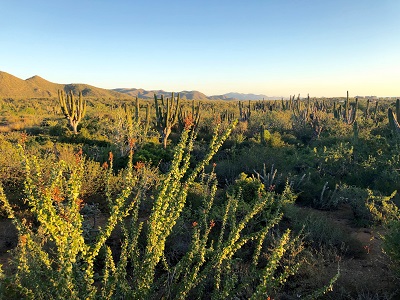 In this camp without electricity, I meet so many kind-hearted people, most often in the main kitchen palapa "The Shanti Kitchen," which is complete with running water, a propane range, and sharing ethics.
In addition to my Airbnb hosts Natalia and Aida, two film professionals who studied in Mexico City, there is a young Canadian man named Adam, who sleeps in his Sprinter van across the way; A Swiss couple with a three-year-old son the camp calls "Baby Buddha" because he hates wearing clothes; A Canadian minister dubbed "Gandalf" for his long, white hair and beard; a young woman surfer on her way back to the U.S. from a several-month road trip with her dog, down the coast of mainland Mexico to Guatemala in her minivan; a very in-love Aussie couple who embrace surfing and yoga and each other; and the occasional American or French traveler dropping in for one or two nights in the treehouses. To my immediate relief, this is not a party place, though there will be nights to remember.
In the treehouse, sides open to the ocean breeze, I sleep like I've never slept before. Lulled to sleep by the waves, the alarm clock here is a gentle chorus of songbirds and insects that grows louder as the sky lightens. By the time the morning sun crests the Sierra de la Laguna mountains to the east and hits the blue strip of ocean visible from the deck, the surrounding sea of cactus, moringa and guava trees is singing. One night here will turn into many.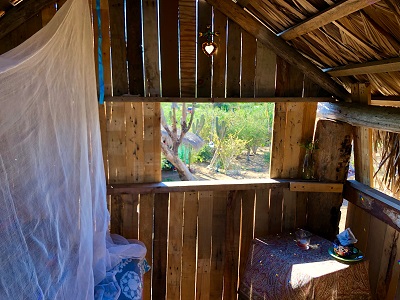 Lodging at Espacio Amor: About $20/night, plus service fees on Airbnb. Tent Camping—About $10/night; enquire in person.