Valle de Guadalupe: Mexico's 'Little Tuscany'
Taking the Ruta del Vino through wine country just south of the border
By Maria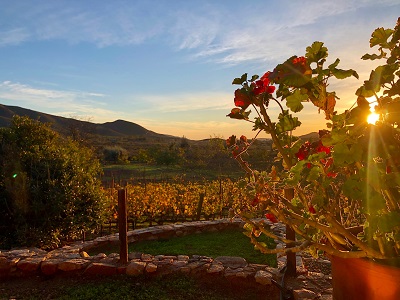 Just over the border at Otay Mesa, the most direct route to Mexico's wine country, Tijuana is a flash of color. Street performers spin hula hoops in the cross walks, and vendors approach the car selling oranges, churros, firecrackers and incense, nodding politely and smiling even when we decline.
But just like that, it's all behind us. As we climb the hilly terrain outside Tijuana the landscape is at first barren and rocky, crusted with cement homes, and then no structures at all. On the highway heading east toward Tecate, at least a dozen signs for hand-washing stations make us wonder about our own hand-washing habits as Americans.
We pick up Route 3 before Tecate, en route to Mexico's Ruta del Vino, which cuts south through the Valle de Guadalupe toward the coastal city of Ensenada. Valle de Guadalupe is an up-and-coming wine tasting region—Anthony Bourdain referred to it as "a little Tuscany"—located an easy hour or so from the border. We'll soon find that restaurants throughout Baja stock wine from this region, and some of the vineyards are biodynamic and eco-conscious.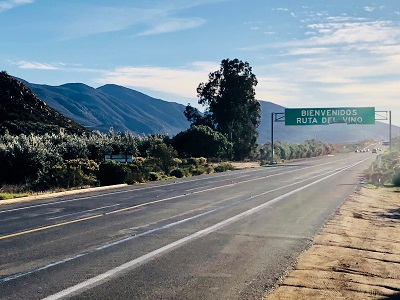 As we enter kilometer 20 or so on the 3, the rolling hills of this arid landscape become greener. Wild oak trees, tamarisk and a shrub similar to artemisia give way to not-so-wild olive trees and occasional spires of Italian cyprus, and the various wineries begin to beckon from their hilltop perches.
Valle de Guadalupe is home to more than 120 wineries, as well as some craft beer breweries, and they all have a different aesthetic, which makes for interesting rubbernecking. We see a few huge Napa-esque haciendas, but mostly smaller establishments with creative architecture, and quaint boutique wineries tucked away down picturesque dirt roads.
Wine sounds good around 5 o'clock, especially to these two writers—one of whom (Molly) was up the entire night before grading journalism exams. So we drive down a long dirt driveway around 4 p.m., call it 5, and taste a couple of wines ($5 for two small pours) in the rustic cave of Vinícola 3 Mujeres. Founded by three girlfriends, 3 Mujeres shares its long dirt road with two other boutique wineries. It's small and lovely, complete with resident cats, sweeping views of the surrounding vineyards, and a dreamy, sunlight-drenched pottery studio overlooking it all.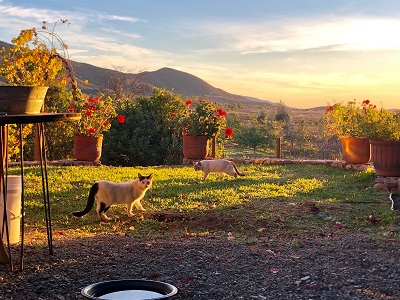 It's beautiful here, and yes, it could be "a little Tuscany," with its fig trees and backdrop of mountains. But there are obvious signs that this region is only just beginning to form: We pass a few signs advertising land for sale by the hectare, and several half-constructed facades and gateways. There's much to see here, and we look forward to coming back.
Tip: If visiting in the winter, check the weather first. The valley can get cold and windy, and we both wished we'd packed our hats and warmer winter clothes.