View from the Prison Without Doors
A morning in Mulegé
By Maria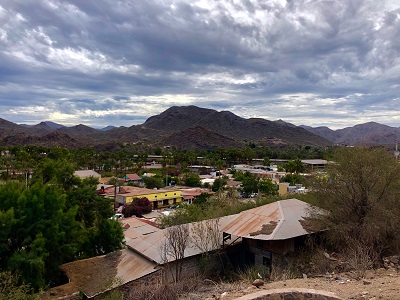 In the morning I walk around Mulegé to stock up on some supplies. The locals nod in greeting, and say "hasta luego" (see you later) in farewell—something we didn't notice in points north, but a trend that continues as we work our way south.
It's only 9 a.m., but the subwoofers outside the market are booming reggaeton, and I smile at the energy surge it gives me to hear music this loud at this hour. I buy some pastries and supplies, and look inside a few shops hung with hand-embroidered Oaxacan shirts and dresses and woven rugs. The rugs are beyond my price range ($100 and up) but I chat with a shop owner who tells me there are lots of Oaxacans in Mulegé, and that if I like art I should definitely visit Oaxaca itself, where every neighborhood is known for a different art form and style.
Before leaving town, Molly and I climb about 60 stairs to the top of a hill overlooking the town. Here sits an old prison, called the "Ex Carcel sin Puertas," the Prison without Doors. It's said that prisoners were free to come and go, working in the town during the day and returning to the prison when the dinner bell rang.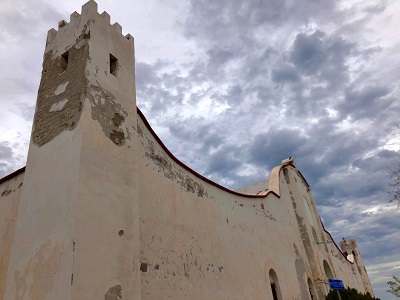 The museum is closed when we stop by, and does not appear to be open much at all, but we soak in the views of the town and the river valley's oasis of palm trees.
It feels like rain, so we decide to keep pushing south toward the turquoise waters of Bahía Concepcion.