Yoga Culture in Baja
A trip to El Pescadero's Baja Zen yoga studio
By Maria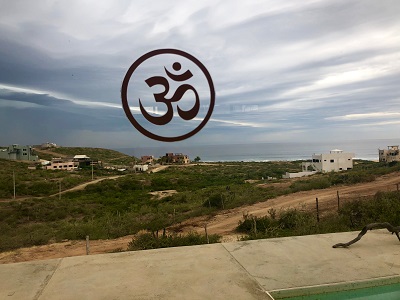 I brought my yoga mat on the road, and I use it often on the treehouse deck every sunrise at Espacio Amor. I did not imagine myself going to yoga classes in Baja, but I find there is a thriving yoga culture here. In El Pescadero, I see a small sign on the road to the beach advertising Baja Zen, and decide to check it out.
The studio is on a hilltop overlooking the ocean just north of the swimmable Playa Los Cerritos. A wall of windows means the blue-green Pacific Ocean is the studio's horizon line, and I feel zenned out already. "I was watching whales breaching this morning," says Kim, the yoga instructor and owner.
The class is top quality. I don't see any whale spouts, but a rain storm moves across the ocean during the class, and we see a couple bolts of lightning in the distance. Awesome. It is an electric class.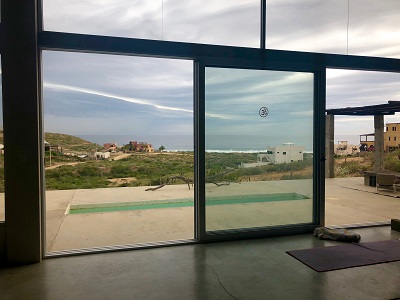 The class costs 150 pesos, or about $8—which is several dollars cheaper than a drop-in class in California. Kim is well-studied, and leads us through an extensive variety of poses. In a second class with her, it is an all-new extensive variety, which I appreciate.
I find out later that Baja Zen is also a retreat center, with accomodations onsite, but that Kim is looking to sell it in order to focus on other ventures. Yoga, and other manifestations of "wellness" is alive and well in Baja, embraced by locals and expats alike. Yoga studios can be found in La Paz, Todos Santos, the Cabos, and Ensenada, as well.
The storm touches land by the end of class and rain patters on the roof. An older Canadian woman named Pat needs a ride to Baja Beans, and I tell her to hop in my car. "You haven't been to Baja Beans yet?!" she asks. "It's where all of the expats hang out. And today is market day."
Pat says she has been coming to El Pescadero for decades. Now that she's retired, she's looking to move here permanently. "Life is just so simple here," she says. I nod: I've been zenned out of my gourd ever since I arrived.