Hello, La Paz
Hotel Bugambilias and a long-awaited arrival in the largest city in Baja Sur
By Maria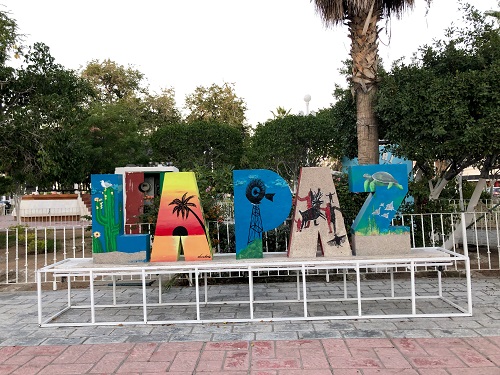 Six hours in, and on our final descent into La Paz, we crawl along in a caravan of cars. Like the storefronts and restaurants we've seen today getting a fresh coat of paint, the road is also being readied for the spring tourist season.
So it is that we woop with joy when we finally enter the city's outskirts, which is marked with a giant whale tail under an arch. A milestone, and long-anticipated destination as Baja Sur's largest city. Little do I know, it will feel like a celebration every time I return to La Paz during the next few weeks I spend exploring Baja's southern tip, and the city will leave an impression on me long after I return to the states.
We find a hotel on iOverlander, Hotel Bugambilias ($46 a night), which is a little bit outside the center of the city but has a gated parking lot.
The walls are painted with murals, and a restaurant under the arched eves serves meals at an extra cost.
"Do you want upstairs or downstairs," asks the lady at the front desk. Definitely upstairs!
The rooms of this two-story hotel wrap around a large courtyard and swimming pool, and the upstairs balcony looks down onto the pool. There's also a bar near the swimming pool, that is not yet open so early in the season.
Molly and I stash our things and walk down to the malecón, which is only a few blocks away. The seaside walk is picturesque, and in the daytime it attracts roller skates and bikes and joggers. It's starting to rain so we duck into the closest restaurant on the strip, which turns out to be a sushi restaurant that serves very good coconut shrimp. We sit in the window with hot sake long after it stops raining, and it's so nice to just hang out and not feel rushed.
Roadtripper's Tip: Though GPS predicted a four-hour drive from Loreto to La Paz, it took us seven hours, due to a long strip of dirt road under construction just outside of La Paz.
Hotel Bugambilias: $46/night