Roadside Tacos in Ensenada
We Made it to Mexico!
By Maria
Driving through wine country and sleeping in an Airstream on our first night in Mexico was all very surreal: The landscape felt like Italy, the Airstreams felt like outer space in the 1970s, and we drank red wine as if we were back home in California. Were we actually in Mexico?
Entering Ensenada on Day Two brings us closer to the Mexico we'd been picturing: busy streets, colorful buildings, restaurants and taco stands along the main drag, and a pretty malecon, or walkway along the beachfront.
Molly and I stop for gas, and get our first taste of a luxury I'll miss when I return to the U.S.: An attendant will reliably pump your gas, wash your windshields, and if you ask, check your tires.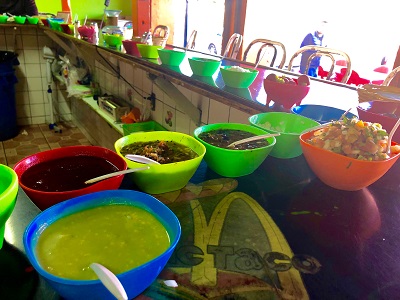 Our next stop is a Santander bank to withdraw cash from the ATM. A small fee applies on both the Mexico and U.S. side, so I withdraw $6,000 pesos and utter "Make this last" to nobody listening.
Finally, we park at one of several roadside taco stops and sit at its open-air bar, which is lined with bowls of salsa. We're the only patrons at the counter, but the grill is hot, and our tacos (al pastor and carne asada) come quickly. Onion, cilantro, lime, and salsa: these tacos are so good! And we're in Mexico! It finally seems to be sinking in, and the thrill never really wears off. We pay our bill (a total of $8 for four huge tacos, a coke and horchata) and hit the road.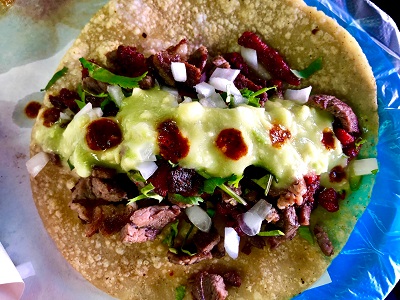 Ensenada is the third largest city in Baja, and it's undergoing a renaissance in the same way that Tijuana has. Though Molly and I pass swiftly through Ensenada, we hope to explore more of it another time. The high season is summertime when the weather is ideal, and the city's placement at the bottom of the Ruta del Vino makes it an ideal destination for a weekend trip.