Scuba Diving in La Paz, Baja Sur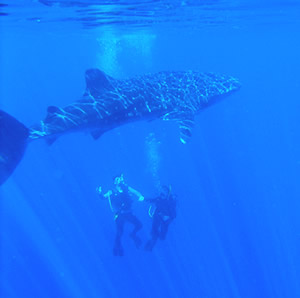 If you think you have to fly half-way around the world to scuba dive or snorkel with exotic sea creatures like whale sharks, hammerheads, and manta rays - think again - you can drive your car! The Sea of Cortez along Baja's eastern coast is frequented by some of the world's most exotic marine animals. All of these photos were taken on a recent scuba diving trip I took to La Paz, Baja Sur in early November 2006.
If you plan on driving to Baja, make sure to purchase your Mexican auto insurance. If you plan on scuba diving in Mexico, it is also highly recommended that you purchase scuba diving insurance through the Divers Alert Network DAN.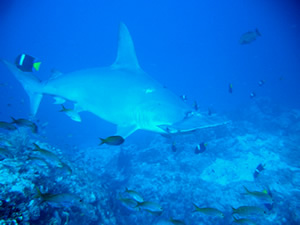 Hammerhead Sharks Gather off the La Paz Coast
If you have ever fantasized about seeing hammerhead sharks up close and personal, La Paz is a great place to make this dream come true. During the Fall and early Winter months, schools of hammerheads congregate in certain areas of the Sea of Cortez. The dive site where this photo was taken was just about a one hour boat ride from downtown La Paz. The sharks are at about 60 to 150 feet deep, and you are almost guaranteed to see sharks on every dive. Our dive boat was run by Fun Baja, and I highly recommend their services.


Whale Sharks - Magical Gentle Giants
I am proud to announce that Iam one of the people pictured with the whale shark! (Jeff Nordahl - President of Adventure Mexican Insurance) Whale sharks are frequent visitors to the Sea of Cortez during the Fall and Winter months, and there is about a 50 percent chance of having a close encounter if you hire a dive boat who knows how to find them. If you want to increase your odds, you can hire a spotter airplane who will radio in the location of whale sharks if he spots them from above. Our group got extremely lucky - As we were about to dive to depth to swim with hammerheads, this massive whale shark suddenly emerged from the blue. He blessed us with over 30 minutes of his presence. He was as curious of us as we were of him, and he kept circling around us.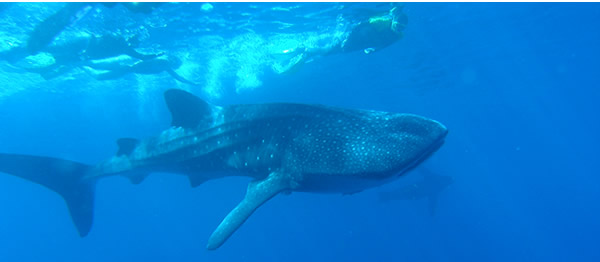 Other fun or exotic creatures you can expect to see while diving off La Paz include; Sea lions, manta rays, dolphin, pilot whales, orcas, and even blue whales and humpbacks are seen on occasion. There are also hundreds of species of fish, eels, and octopus that are permanent residents of the reefs.
As far as dive boats, we had an excellent experience with Fun Baja. All of the guides were very professional and friendly, they spoke fluent English, and they knew the best dive spots. Their boats were in good condition, and their air tanks were clean. Even better, they took us to their own beach camp for delicious lunches, and they cleaned all of our equipment for us after each day of diving. They really do a great job.
The entire dive trip was coordinated by Aquasafaris Scuba Center in Santa Cruz, CA. We highly recommend contacting them if you are interested in quality dive trips to Mexico and other parts of the planet.